Nitro
Sibir:
innovation-based
growth
E.I.
Zhuchenko,
Dr.
Sc.
(Eng.),
Chairman
of
the
Board,
General
Director,
Nitro
Sibir
ZAO
In 1990, a self-appointed group of experts specialized in commercial explosives, and drilling and blasting processes set up Nitro Sibir, a research and production commercial company. Nitro Nobel, a then well-known world leading producer of emulsion explosives was chosen as a foreign partner.
Over the past period Nitro Sibir has gained the extensive practical experience in the development of explosives, equipment for their application, and explosives fabrication facilities, as well as in drilling and blasting processes.
For the first time in the history the Russian explosives producer got an access to the European market of explosives after its products having passed the necessary certification procedures and obtained the certificate of compliance with EU standards. Today, Nitro Sibir ZAO is the largest producer of commercial explosives in Russia. In 2012, the total output of the company is expected to exceed 370,000 tonnes.
Emulsion explosives developed by Nitro Sibir ZAO are fabricated based on the application of original emulsifiers and individual flowsheets ensuring the product compliance with the respective international standards.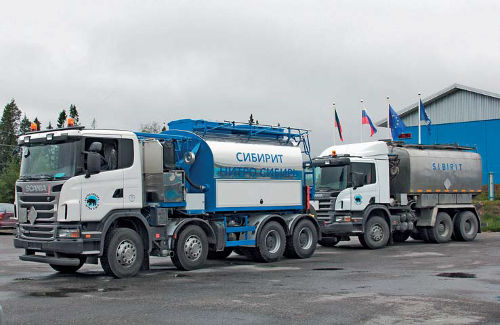 For the stages of Nitro Sibir Company start-up and development the following main objectives have been set:
- Development of formulations and technologies for the fabrication of highly efficient and safe commercial explosives on the basis of home-made components;
- Design and manufacture of the process equipment for the fabrication of commercial explosives;
- Design and manufacture of commercial explosives fabrication facilities for operation at drilling and blasting sites;
- Development of efficient drilling and blasting technologies with the application of advanced explosive materials and high-performance mixing and charging equipment, and explosives delivery machinery.
Implementation of these stages have resulted in the development and obtaining the Permit for the permanent use on the territory of Russia and European Union of the following:
- a wide range of advanced commercial explosives, including emulsion explosives of Sibirit™ type produced with the use of components and materials of Russian origin, which includes application of original highly-efficient emulsifiers of INS and BINS families;
- process equipment for the fabrication of commercial explosives, including mixing and charging equipment and delivery trucks;
- conceptual design approaches.
In order to improve and optimize the blasting Nitro Sibir experts developed an original method for calculating the parameters of blasting and the corresponding software package that allows depending on the geological characteristics of the exploding massif to optimize the use of explosives, its technological modes of charging, charge and well design parameters of drilling and blasting processes.
Stages of the Company activity
The construction of explosive fabrication facilities in different regions of the Russian Federation has become Nitro Sibir Company's main achievement in the commercialization of the original technology, in particular:
In 1996, in cooperation with Yakutugol OAO a modular-design Sibirit explosive fabrication facility was launched and started commercial operation at Neryungrinsky opencast coal mine (Sakha-Yakutia Republic).
In 1999, the production of commercial explosives started at modular-design facilities at Bachatsky open-cast coal mine (Kemerovo Oblast), on which basis KRU-Sibirit OOO specialized company, now being the largest Russian explosives producer, was established by joint efforts with Kuzbassrazrezugol OAO Coal Company;м In 1999 an explosive fabrication facility was commissioned at Mezhdurechensky open-cast coal mine (Kemerovo Oblast).
In 2002 Sibirit-3 ZAO (Kostomuksha, Republic of Karelia) was set up and started production;
In 2007 Sibirit-3 ZAO obtained the certificates of compliance with the EU standards for commercial explosives and process equipment; the permit was also obtained for the application of Sibirit-type emulsion explosives in the territory of the European Union. Sibirifin OY subsidiary started regular exports of Sibirit explosives to Finland.
In 2007 the facility at the Bachatsky open-cast mine (Kemerovo Oblast) was refurbished with the expansion of its annual production capacity up to 135,000 tonnes of explosives.
In 2008 production of cartridged emulsion explosives was launched on a commercial scale by KRU-Sibirit (Belovo, Kemerovo Oblast);
In 2009, a mobile modular-design explosives fabrication facility was commissioned by Lenvzryvprom OAO (Leningrad Oblast).
In 2010 Kedrovsky opencast coal mine (Kemerovo Oblast) put in operation a 25,000-t mobile facility based on the innovation technology that required no capital investments in the construction of storage yards and service buildings.
In 2010,Uralsky Sibirit subsidiary started the production of commercial explosives (Magnitogorsk, Chelyabinsk Oblast);
In 2012, Sibirit-type explosives production was launched at the explosive fabrication facility of Vinogradovsky opencast coal mine (Kemerovo Oblast).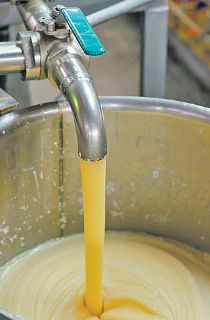 Wide-scale application of commercial explosives produced by the companies of Nitro Sibir Group, as well as innovative approaches incorporated in drilling and blasting technologies, make the Group highly competitive in the market of blasting services in rock breaking. Today, six production units affiliated with Nitro Sibir Group provide blasting services to over 30 mines of the Russian Federation.
An original technique has been developed for the design of the most feasible parameters of drilling and blasting processes and the respective software suites for optimization of a fabricated explosive, charging practices, borehole charge design, as well as drilling and blasting patterns depending on geological conditions of the virgin rock to be broken. This eventually ensures the optimal quality of the rock material broken by blast at minimal costs of drilling and blasting processes.
Nitro Sibir Group consists of more than 15 companies operating in different regions of Russia and in the territory of Finland. These companies run the fabrication of commercial explosives, and provide drilling and blasting services.
The products of Nitro Sibir ZAO are supplied to more than 60 mines and mining companies. The main consumers are largest companies, such as, Severstal, Mechel, UGMK, MMK, Russian Railways, Akron, and Yara International Concern.
In 2012, the output of explosives at the fabrication facilities of Nitro Sibir ZAO is expected to exceed 370,000 tonnes. The scope of blasting services to be provided by the Company personnel will exceed 100 million cub. m of broken rock material. Commercial explosives fabrication facilities
Nitro Sibir ZAO designs the production facilities for the fabrication of commercial emulsion (including cartridged explosives) and elementary granulated explosives, as well as storage facilities for explosives.
At that, the personnel of Nitro Sibir ZAO develop master processes for particular design conditions, elaborate industrial safety, automation and process management solutions. The complete package of design documents without fail includes the Declaration of Industrial Safety, Civil Defence and Emergency Management and a buffer zone protection project.
Nitro Sibir ZAO also performs project administration and monitoring in all expert organizations and obtains all the necessary permits and approvals.
Explosives fabrication facilities are designed as modular, mobile and modular-mobile versions.
A broad range of process equipment, mixing and charging, as well as delivery machinery manufactured by the Company suggests a variety of layout solutions meeting all particular requirements of mining companies.
- innovative mobile fabrication facilities on the basis of specialdesign trucks allowing the launching of commercial explosives production for blasting processes in the absence of permanent buildings and in the shortest time possible;
- modular-design mobile fabrication facilities allowing the expansion of commercial explosives production with the growth of mining operation scale;
- modular-design complexes of up to 100,000 t and higher annual capacity for mines with a great scope of blasting.
Research and development of commercial explosives
The formulations of Sibirit-type emulsion explosives make the know-how of Nitro Sibir ZAO, and they suggest the use of feedstock of both domestic and foreign origin for the fabrication of emulsion explosives.
As the geography of Nitro Sibir ZAO production facilities is rather vast the Company cooperates with the majority of the largest Russian producers of feedstock components.
Nitro Sibir ZAO produces emulsifiers based on its proprietary formulations and technologies at two facilities belonging to the chemical industry. The company offers to its customers a broad range of emulsifiers for a variety of emulsion explosive types and application areas.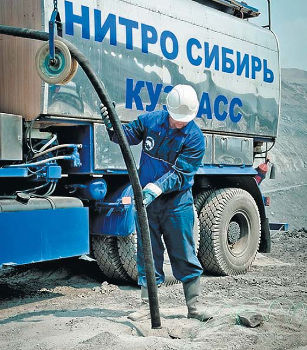 Occupational health, safety and environmental control
Utmost possible safety of emulsion and granulated explosives fabrication and application is the top-priority objective for Nitro Sibir. Industrial health and safety aspects are of primary importance at the design and construction stages, as well as in the process of production facility operation.
Production facilities are created in strict and steadfast compliance with the requirements of the legal and regulatory framework of industrial safety.
While developing the processes, formulations, process equipment and specialized motor vehicles, the Company engineers adhere to the principle that any mixture consisting of an oxidizer and fuel is potentially explosive, and the probability of an emergency situation and the severity of its implications depend on the sensitivity of the product to any kind of impacts, including accidental effects, the probability of the sensitivity increase under certain external disturbances, chemical compatibility of the components, the nature and intensity of influence of the processes, equipment design and engineering solutions.
Nitro Sibir ZAO attaches major importance to the development of a complex system of technical measures including the following:
- the analysis of potential impacts on feedstock materials, semiproducts and emulsion explosives at the respective stages of the explosives fabrication and application;
- substantiation of a choice of test methods and procedures for feedstock materials, semi-products and emulsion explosives simulating various mechanical, thermal, chemical etc. effects, as well as accidental influences allowing the assessment of the level of hazards associated with every process in particular and with a specific technology in general.
- recommended practices for optimization of emulsion explosives formulations, process routes of emulsion explosives fabrication, equipment design and engineering solutions ensuring safe production and application of emulsion explosives.
Design features of the main process equipment used by Nitro Sibir ZAO in complete sets of modular-design facilities and mixcharging machines ensure the elimination of technological hazards in the process of explosives fabrication and application.
In particular, the process of conversion of non-explosive components of Sibirit emulsion explosives (emulsion and gas-generating agents) into explosive materials goes directly in a blasthole.
Thus, no explosive material is involved in the Sibirit emulsion explosives production chain – from a feedstock supply stage to a stage of component delivery from a modular-design plant to a blasthole.
The above mentioned feature radically enhances the safety of production, thus categorizing it as explosion safe production. This also eliminates any risk of explosives misappropriation and ensures high antiterrorist stability of Sibirit fabrication facilities. Nitro Sibir ZAO and its subsidiaries view occupational health and environmental control as a fundamental principle of their production and economic activities.
As early as at the stage of design and engineering the following special sections of any project are subject to obligatory development: - environmental control project;
- buffer zone project.
Environmental safety of Sibirit fabrication and application is provided first and foremost by low concentrations of toxic agents used in emulsion explosives production and air emissions resulting from blasts (20–30-fold lower than from application of other explosives). Moreover, application of emulsion explosives results in lower occupational morbidity of the personnel engaged in blasting operations, as people has no contact with carcinogenic materials, which are usually present in conventional explosives. Thus, emulsion explosives produced by Nitro Sibir ZAO are the most environmentally friendly commercial explosives.
Facilities for the fabrication of commercial explosives constructed based on the design of Nitro Sibir ZAO, as a rule, use waste-free closed-cycle technologies, with the re-use of the remainder of feedstock components and semi-products (dust emissions, remainder of solutions, etc.).
The current policy is continuously updated towards the application of the most environmentally safe process methods and equipment, as well as for compliance with the laws applicable in the territory of the Company operation.
Mining
Industry
Journal
№2
2012,
p.150