Stationary
and
transportable
crushing
handling
plants
manufactured
by
Uralmashplant
A.V.
Gruzdev,
A.M.
Osadchy,
V.O.
Furin,
Mining
Equipment
Division,
JSC
"Uralmashplant"
Inthe situation of ever-growing mining depth and rising hydrocarbon fuel costs many mining operations can enhance the efficiency of surface mining due to the application of cyclic-continuous technology (CCT). The deployment of crushing and handling plants (CHP) in close proximity to production faces may significantly cut operation costs due to the replacement of a certain part of expensive road vehicles with more economic conveyor transport.
CHP is also a reasonable solution in flowsheets, where ROM materials from newly developed and peripheral sites of mineral deposits are transported to mineral processing facilities. In this case, ore can be transported by conveyors, railway or cable transport.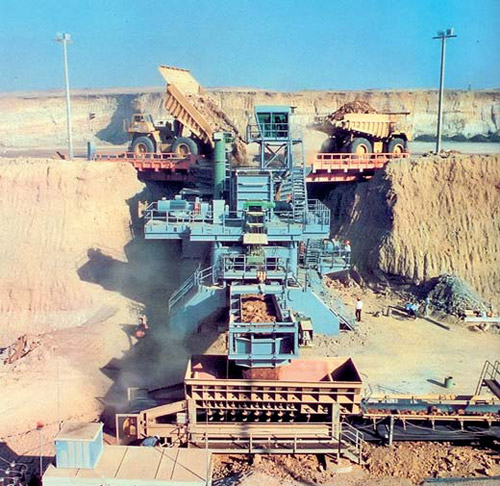 Depending on the flowsheet and location point, crushing and handling plants can be either mobile, transportable (portable) or stationary.
In 1970–1980's the Soviet researchers and designers viewed crawler-mounted, walking and track-mounted mobile crushing plants as machinery having the future. Today, the application area of mobile systems is reduced to small-scale mining and construction operations with rapid advance of the excavation front in plan and into the depth of a working zone.
Transportable and stationary CHP are used in large quarries and opencast mines of high capacity with combined truck and conveyor transport systems. The relocation of transportable systems in an open pit aimed at its closer location to a face is required no often than once in 7–10 years. Such CHP are equipped with large high-capacity crushers, which are mostly those of cone type. Historically, Uralmashplant supplied crushing equipment as separate units for crushing and handling systems of CCT flowsheets, while integration and matching of machinery was performed by customer's design institutes. Today, designers and engineers of Uralmashplant develop integrated approaches to meet the customer's process requirements. The practice of turnkey process lines supply is ever expanding. As of today, only Russian R&D institutes develop about 10 projects with the installation of transportable and stationary CHP with cone crushers of 22 million t and higher annual capacity. Besides, the customers' demand for compact crushing systems with jaw crushers of at least 3 million t annual capacity is ever growing.
This trend is proved by the Company's book of orders. For instance, in 2011 Uralmashplant supplied two KKD1500/180 crushers for PAO Severny GOK in-pit crushing systems that was then under construction (Kryvyi Rih, Ukraine).The project was implemented as a result of joint efforts of engineers and designers of Uralmashplant, NPO RIVS (St. Petersburg) and NPP Rapid (Dnipropetrovsk, Ukraine).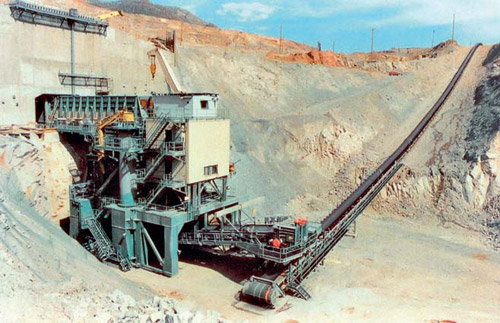 In 2012, in conditions of severe competition, particularly on behalf of Chinese manufacturers of mining machinery, Uralmashplant won the tender to supply three KKD-1500/180 crushers for Kacharsky open pit of CCGPO OOO (Kazakhstan). In 2012, No. 5 crushing and sizing line for cubic crushed stone production (with ShChDP-15/21U, KSD-2200Gr-DM and KMD2200T7-D crushers) was launched. It was supplied by Uralmashplant to RUPP Granit (Mikashevichi, Belarus) Today, Uralmashplant offers CHP with KKD-1350/160, KKD1500/180 cone crushers and ShchDP-12×15U, ShchDS-12×15U, and ShchDP-15×21U jaw crushers. Over more than 20 years of design and delivery of CHP and its component parts Uralmashplant designers and engineers have elaborated a variety of layouts and arrangements. The advantages and disadvantages of various CHP versions with annual capacities from 10 to 30 million tonnes were discussed with experts from the largest mining companies in Russia, Ukraine and Kazakhstan. Currently, the Company offers two optimal layouts of CHP equipment packages with high-capacity cone crushers for CCT.
DPU-2000 crushing-handling plant (Figure 1) is a transportable system, which includes: KKD-1500/180 crusher, a support frame, an apron feeder, a transfer conveyor, a track discharging bridge, a control cabin, and a plant remote control system.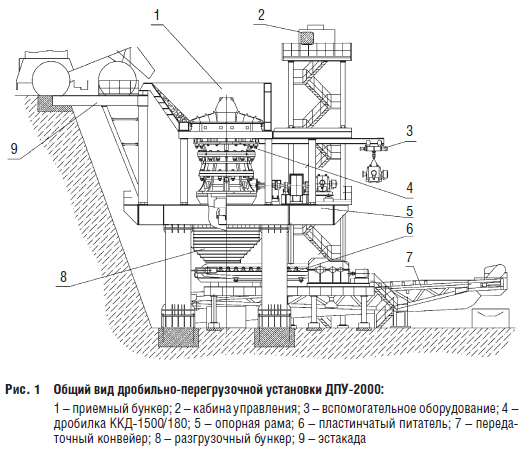 Ore fragmented by blast is transported from an excavation face to a CHP and then loaded by dump trucks from track discharging bridges directly to a coarse-ore bin located above the crusher. The crushed material is discharged from the crusher to a receiving bin. From the receiving bin the material goes to an apron feeder and further loaded on a transfer conveyor. The KKD-1500/180 crusher is a basic component of the DPU2000. It is equipped with a hydraulic discharge setting system with automatic crusher head position control, oil lubrication system, automatic grease lubrication system, built-in maintenance features. Basic parts and main units of the crusher are reinforced for high-performance heavy-duty operation without repairs between regular relocations.
The crusher support frame is a load-bearing steel structure with a built-in receiving bin for ROM material discharged from dump trucks at its top. This feeding method implements one of the main advantages of cone crushers – their high performance. An apron feeder located under the discharge bin ensures reliable accident-free operation of the transfer belt conveyor and forms a buffer storage, separating rock crushing and transportation processes.
A transfer belt conveyor concurrently performs the function of spill pick-up from under the apron feeder.
In the second version of CHP layout (Figure 2) the feeder location at the top allows to avoid the installation of a large discharge bin under the crusher. This considerably reduces a design height of the plant and also improves the discharge of crushed material from under the crusher. Dump trucks in this case discharge the material to a feeder charging bin. This reduces impact loads to the crusher spider and head from large falling lumps. The plant is controlled remotely from the cabin, where the automatic system monitors the performance parameters of the equipment, systems and mechanisms. The cabin is vibrationand noise-insulated, airtight, and furnished with air conditioning and heating systems.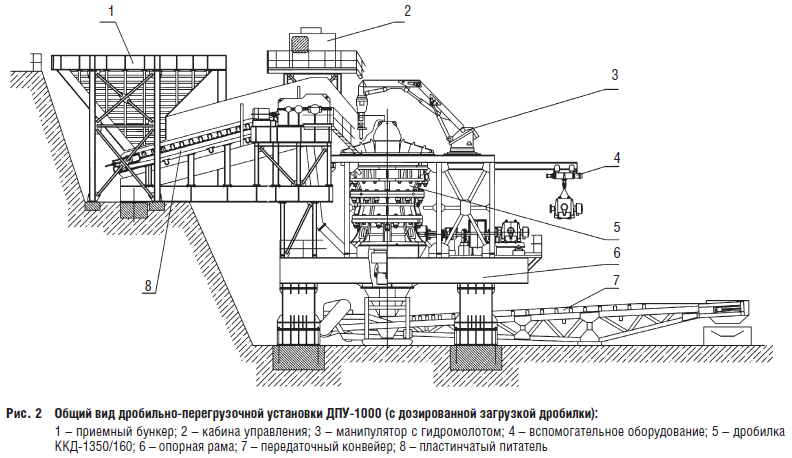 CHP is equipped with local lifting devices, such as, pulley blocks, telphers, hydraulic jacks, as well as a compressor plant, a welding set, and a lighting system, etc.
The plant automatic control system is a top-level system for the plant equipment.
For relocation a DPU-2000 is disassembled (the weight of each component does not exceed 100 t) and transferred by all-purpose transport.
The plant is equipped with a hydraulic hammer for fragmentation of oversize lumps.
For process lines with an annual capacity of about 1 million. m3 a DPU-300 crushing-handling plant with a ShchDP-12×15U jaw crusher of dismountable modular design has been developed (Figure 3).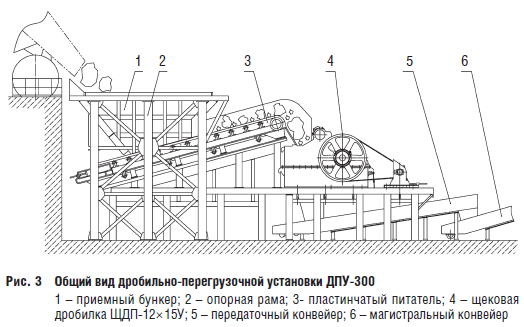 The feed material is discharged from dump trucks to an 80 m3 bin with the bottom being an apron feeder belt of 1,800 mm. The apron feeder discharges the material into a jaw crusher, and the product enters the next stage of crushing via a system of conveyors. DPU-300 can be used for primary crushing at stone-crushing plants, coal and ore mines of medium annual capacity.
It has been found that with the expansion of the production capacity of an open pit and growth of its depth the economic efficiency of CCT systems with in-pit CHP increases. The trend towards the enhancement of ore output and petroleum product price rise suggests further expansion of the share of CCT systems at large open pits of Russia and CIS.
The crushing-handling plants manufactured by Uralmashplant have the following advantages:
- the main components of the plants are machines and equipment widely used and showing good performance at mines and mineral processing plants in Russia and CIS;
- low operating costs;
- easy installation and maintenance.
Key
words:
crushing,
crusher,
chp,
crushers,
system,
systems,
uralmashplant,
plant,
capacity,
mining
Mining
Industry
Journal №4
2012,
р.98