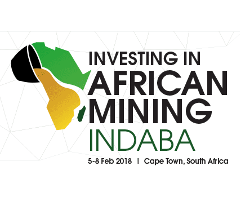 Investing in African Mining Indaba is the World's Largest Mining Investment Conference and the Largest Mining Event in Africa
South Africa, Cape Town
tel.: +1 619 956
E-mail: This email address is being protected from spambots. You need JavaScript enabled to view it.
www.miningindaba.com
Investing in African Mining Indaba is solely dedicated to the successful capitalisation and development of mining interests in Africa. Located in Cape Town, South Africa for over 20 years, this event unites investors, mining companies, governments and other stakeholders from around the world to learn and network, all toward the single goal of advancing mining on the continent. Also known as Mining Indaba, we are dedicated to supporting education, career development, sustainable development, and other important causes in Africa.
Since Mining Indaba was acquired by Euromoney is has continued to undergo significant changes and investment to take it back to a focused deal making forum while supporting the needs of the rest of Africa's mining industry.
To make this happen, the content is being segmented in 2018 to better support the individual groups that attend Indaba, ensuring there are meeting places for all sections of the industry under one roof with a specific focus on the junior mining community.
You may ask, why is Indaba doing this? It's simple. We believe that if mining projects get financed, the rest of the industry does well. Not only the mining companies and service providers, but Africa itself.