World
Mining
Congress
2018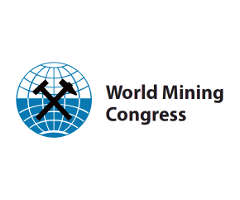 25th Jubilee World Mining Congress (WMC)
Kazakhstan, Astana
Tel.: +44 (0) 207 596 5038
E-mail: This email address is being protected from spambots. You need JavaScript enabled to view it.
www.wmc2018.org
Kazakhstan to hold the 25th Jubilee World Mining Congress (WMC) which will bring together over 2 000 delegates from 50 countries. High-ranking officials, top-level specialists and international experts will discuss global mining and metallurgy industry development.
Date: June 19-22, 2018
Place: Astana, Expo Congress Center (Mangilik El av., 144/7)
Media accreditation is open. Please check out the LINK and submit the online form to cover the event.
The WMC anticipated speakers and participants are top-managers from the world's leading financial institutions and mining and metallurgy companies:
London Stock Exchange
Rio Tinto
ERG S.a.r.l
Zijin Mining Group Co.
Glencore International AG
KAZ Minerals PLC
Centerra Gold
Polymetal
EY
Astana International Financial Center
Over 200 companies from Russia, China, Germany, Austria, Kazakhstan, Poland, the USA, France and Ukraine plan to participate in the international mining exhibition that will take place alongside the WMC.
About
Kazakhstan
Mining and metallurgical industry accounts for a substantial share (18%) of Kazakhstan's economy. The republic ranks the 13th for hard minerals production out of 70 mining countries in the world; the 2nd for uranium reserves and the 8th for copper deposits. It possesses around 38% of the world's uranium reserves; 30% of the chromium resources and 25% of the manganese deposits.
The World Mining Congress (WMC) is a global mining event that takes place every 2-3 years, and brings together high-level professionals and international experts from the mining and metallurgy industry. The number of the WMC participating states has increased from 10 to 49 since 1958 when the Congress was established. Lead by a secretariat with organizational status, it is associated with the United Nations and is located in the Central Mining Institute, in the city of Katowice, Poland.