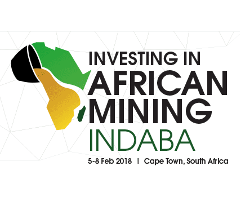 Investing in African Mining Indaba is the World's Largest Mining Investment Conference and the Largest Mining Event in Africa
South Africa, Cape Town
tel.: +1 619 956
E-mail: This email address is being protected from spambots. You need JavaScript enabled to view it.
www.miningindaba.com
The 25th Anniversary Mining Indaba will be big, bold and better than ever. The highly anticipated event will see the largest amount of investors, mining executives and junior miners from across the globe come together for this leading deal making forum.
The unrivalled networking is matched by an agenda that features Heads of States, Mining Ministers and the most influential people in African mining. No other mining event provides this level of expertise and access to the entire value chain.
Celebrate how far the industry has come and discover what the future holds for you in the African mining market.
Highlights Include:
President of Ghana confirmed as keynote speaker with more Heads of State expected to join them More Investors than anywhere else in Cape Town - Meet with over 750 investors and dealmakers under one roof Sustainable Development Day - Be a driver of eco-conscious mining. Discuss the role of diversity, inclusion and local communities in the mining sector and discover the newest sustainability-driven innovations Mining 2050 - How can big data, automation, AI and digitalisation increase your efficiency and visibility?
Investment Battlefield - Watch as the hottest emerging mining projects pitch against each other to a panel of high-profile investors to be crowned the 2019 champion.
Young Leaders Programme - How do you plan to avoid a skills gap? Meet with the young talent eager to start a career in mining.

New for 2019:
Enhanced Business Matchmaking portal with easy filtering and search functions provide you with targeted matches so you can spend more time having focused conversations
Investment Pavilion combines the VIP Investor Lounge and Junior Mining Showcase to provide even easier interaction and deal-making between investors and junior miners
A whole day dedicated to battery metals. Is this an areas you can grow your revenue? Hear from the countries holding the resources, the battery manufacturers buying them and risks to future growth due to changing battery technology
An increased focus on Resource Nationalism. Develop strategies on how to restore stability and protect your investment when there's political and economic upheaval
Women in mining - our pledge to increase diversity starts with more women on this year's agenda