BelAZ
goes
at
a
blistering
production
pace
and
prepares
presents
to
its
own
jubilee
In September, the PO "BelAZ" (Belarusian Automobile Plant) takes an active part in the next World exhibition of achievements in the fields of mining equip ment and mining technologies – MINExpo2012 (Las Vegas, USA). Here, along with information on the complete range of its products, the BelAZ will show in the open air the world's largest mining truck capacity of 360 tons. However, in the future, the plant will be 65th Anniversary BelAZ. The two most important events in the life of the enterprise gave rise to interview Peter Alexandrovich Parkhomchik, Director General of PO "BelAZ", the "Gornaya Promyshlennost" (Mining Industry) Journal.
– Dear Piotr Alexandrovich, it is hardly possible today to find a surface mining expert who is unaware of the BelAZ brand. It is quite understandable, as the products of your Company cover 1/3 of the world mine dump truck market.Nevertheless, will you please acquaint our readership with the BelAZ product portrait in brief?
– If one could imagine a sort of "family" portrait of our current products it would be as follows: mine dump trucks in the center, we manufacture them in a 30–360-t range, and these are the most well-known BelAZ products. The background of the portrait is represented by road construction machinery, such as, single-bucket wheel loaders, wheel dozers and scrapers, truck-mounted concrete mixers and service machinery for mine transportation processes such as tow trucks, sprinkling trucks, which are also in great demand at mines today. The machines for underground application, such as, haulers, LHD machines, man-riding transport equipment, as well as machines for smelters, namely, dump-cinder cars, heavy-duty trailers, and freight rolling stock, such as, hopper-cars, hatch low-sided cars and platforms, aircraft tow tractors are also full members of the family. And, for certain, the youngest members of the BelAZ "family" – our novelty products, such as, an unmanned dump truck or concrete pumps and dispensing guns attracting now great interest of mining and construction companies. But speaking seriously and in a word, BelAZ currently offers to its regular and prospective customers the package supply of mine and road construction machinery, which range is ever growing and expanding.
– To get a deeper insight into the current BelAZ production we cannot do without a retrospective review... Will you tell us about major milestones of your company development?
– The story of our company dates back to 1948, when after the glorious victory in the World War II the Soviet Union restored its economy ruined by the war. At that time, some sixty kilometers from the capital of Belarus, in the vicinity of Zhodino railway station a factory was built to manufacture machinery and equipment for peat mining. (it was one of the main fuels then). Later, the factory launched the manufacture of road construction machinery. In 1958, Minsk motor car plant transferred the manufacture of 25-t MAZ mine trucks to Zhodino, and our factory got its current name – BelAZ. In 1960 the BelAZ dump truck project was initiated to manufacture dump trucks of radically new design for surface mining application. This machines were later used at the construction sites of Sayano–Shushenskaya Dam in Siberia and Nurek Dam in Tadjikistan, Aswan Dam in Egypt, and at largest coal and ore surface mining operations of Russia, Ukraine, Kazakhstan and Uzbekistan, as well as at vast mineral deposits of China, Vietnam, Australia, India, Mongolia and some other countries. The history of mining industry in these countries is also the story of our company.
Firstling of BelAZ – 27-ton dump-truck BELAZ-540
– Every of the milestones is no other than the end of one development stage and entering a new and higher stage. With this in mind, will you please outline the most important stages and tell us why you think them so important?
– Among the most important milestones in the BelAZ history I would mention primarily the period of early 1960s, when the factory designed and manufactured the dump-truck prototypes of radically new design. They were intended for surface mining operations. A new assembly line was commissioned for the manufacture of this machinery. Once, at the meeting of veteran miners I've heard a story about MAZ-525 dump-truck operators, who in the effort to fulfill their assignments had had to operate the machines... in a standing position, as the machines had had no suspension at all, and when later they had turned to driving BelAZ dump trucks they had felt as comfortable as in passenger cars. The designers and engineers of our company maintain such features, as the travelling comfort of Byelorussian mine dump trucks and some other of the machine advantages while developing dump trucks of higher payload categories. Today, we can speak of the Byelorussian school of design of heavy-duty mine dump trucks, which is recognized worldwide. I am happy that greater comfort for dump-truck operators is one of the top priorities for our designers, and it is no less important than higher reliability and robustness of dump-truck main assemblies and units.
Another important stage is the development and manufacture of dump trucks with electromechanical transmission in 1970–1980's. The prototype of a 75-t dump truck was created within the framework of the Programme of the USSR State Committee for Science and Technology in close cooperation with R&D establishments and largest manufactures of parts and components. Within the framework of this project implementation No 2 block of workshops was built and another assembly line was commissioned, which currently manufactures 110–240-t dump trucks.
Last year the younger generations of BelAZ personnel witnessed another milestone event – a groundbreaking ceremony for the construction of new No 3 block of workshops for the manufacture of 320–450-t mine dump trucks.
In all fairness it should be mentioned that every preproduction stage of 130, 220 and 320–360-t dump trucks now being supplied to our customers can be viewed as a milestone of BelAZ development. BelAZ moves forward and scales new heights. Who knows, perhaps, an event that will happen tomorrow, will be viewed as a milestone by our progeny.
– In late 1960's and in 1970–1980's and later in 1990's the Company underwent the stages of production modernizing and technological refurbishing. What was the effect of modernizing on dimension-type families of your products, the quantity and quality of purchased products and customer geography?
– To speak chronologically correctly, in the period from mid-1970's one can tell about the following main stages of production modernizing and technological refurbishing. As we have already discussed, the period of 1977–1980 was marked by the commercial-scale manufacture of heavy-duty mine dump trucks with a hydromechanical transmission.
The total investments in the project amounted to US$ 40 million. In 1997–2002 the transition was made to flexible technologies for the manufacture of mine dump trucks with MHD (editor's note: a mechanical-hydraulic drive), and capacities for commercial-scale manufacture of 55–60-t mine dump trucks were commissioned due to the transformation of 30–45-t mine dump-truck manufacture facilities; commercial-scale manufacture was started of a new generation of 130–220-t dump trucks. Successful implementation of the project significantly shortened the design and preproduction stages for new products, substantially perfected the performance standards of machinery and expanded the export capacity of the company in general. The total investments amounted to US$ 95 million.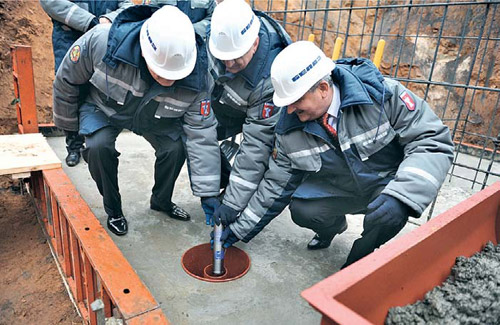 2011. The managing director of the BelAZ Mr. Peter Parkhomchik takes part in laying a capsule
with a message to posterity at the site of block No. 3 production PO BelAZ received Prime
Minister of Belarus Mr. Mikhail Myasnikovich
In 2005–2007's our foundry was modernized and transition was made to new technologies for molding, rod and bar fabrication, steelmaking. The total investments in this project amounted to 15 million euros.
The period of 2008–2010 was marked by the expansion of manufacture capacities for 220–360-t mine dump trucks, commissioning of the manufacture capacities for 90-t mine dump trucks with MHD, and development of railway car building plant. The total investment of BelAZ company at this stage of production modernizing amounted to US$ 93.4 million (including the investments into CJSC Mogilev Railway Car Building Plant (MVZ) amounting to US$ 17.7 million).
Under the Programme of Investment-Driven Development of the Company for 2011–2014 (the planned investments are estimated at US$ 644 million) it is planned to add new manufacture capacities and to expand the manufacture and sales of 90–360-t mine dump trucks, and to launch the commercialscale manufacture of the following new products:
- 32-t mine dump trucks;
- 45-t mine dump trucks;
- 55-t mine dump trucks with a planetary-type hydromechanical transmission;
- 90-t mine dump trucks with an electromechanical transmission;
- 170–180-t mine dump trucks with an electromechanical transmission;
- 130–360-t mine dump trucks with an A.C. electromechanical transmission;
- 450-t mine dump trucks with an electromechanical transmission;
- 220-t diesel-trolley trucks;
- 11.5 m3 bucket loaders;
- aircraft tow tractors of a total weight of up to 600 t;
- special-purpose transport machinery for road construction, loading and transportation systems for operation in conditions of confined space of underground mines and in tunneling, advanced freight rolling stock, etc., with the concurrent expansion of manufacture capacities.
– The achieved level of BelAZ product manufacture and worldwide supply have made your company the industry leader.
However, it is of common knowledge that it is not so easy to become a leader. It is even more difficult to be a longstanding leader... What helps you company cope with this many-sided task?
– I like the idea that history is made by people, and it is our people, that, to my opinion, are the main wealth and capacity of BelAZ. The formula of success of our company is based on such criteria as the talented team-oriented management personnel, skilled workers and engineers, application of proven conventional and advanced methods and technologies, continuous perfection of the machinery quality standards, strengthening of our position in the CIS and foreign markets.
At the same time, we are proud of our friendly partnership relations with mining companies of Belarus, CIS and foreign countries. The annual Mine Transport Conferences hosted by BelAZ are not merely a vibrant and keen talk of manufacturers, component supplier and operators, it is a discussion between like-minded people united by one and the same goal – to make the Byelorussian mine machinery utmost reliable and efficient. We highly appreciate the feedback of our machinery users, as it helps us continuously make headway.
– BelAZ brand products are currently used in more than 70 countries of the world. It is an evidence of the recognition of the product advantages by consumers.What are the competitive advantages of BelAZ machinery?
– Our customers appreciate high maneuverability of our machinery, its travelling comfort, excellent traction and performance characteristics, ease of steering and safety of operation, as well as high unit capacity. Long mileage life of our dump trucks is determined by the application of perfect propulsion systems, high engineering level of units and assemblies, application of high-strength materials for chassis frames and platforms.
In the final analysis, all these features determine low cost of transportation per tonne of freight that is the main point for the economics of any mine.
– What are the consequences of the world financial crisis of 2008–2009 for BelAZ? What lessons have you learnt for the future to ensure the sustainable development of your company and its readiness to resist future hazards of the kind?
– Due to high-tech products and smart marketing strategy of the company the crisis had no significant negative effect on our business. We did not stop production and downsize the personnel, and in 2010 we restored the output. Our product sales in the current year have increased 1.8-fold as compared to the year 2009. However, the hard times taught us a lesson of skilled management during the crisis, and it is lesson for the company divisions and for its management team in particular.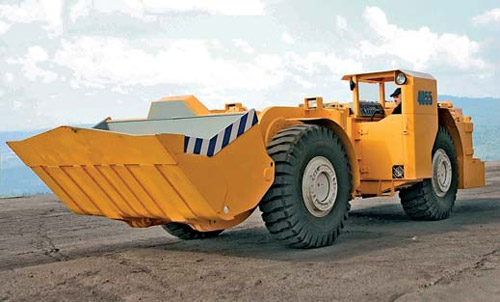 Load-haul-dump MоAZ 4055
– Affiliation of Mogilev Autoworks with BelAZ has served for the expansion of the product line of your company due to the manufacture of transport machinery for underground mining operations.What are the main changes in the product range of MoAZ after becoming a BelAZ branch as compared to their previous product line?
– Today, Mogilev Autoworks manufactures 22-t to 50-t dump trucks with 4x2 and 4x4 wheel arrangement for underground mines, LDH machinery, 25-t dump trucks, articulated dump trucks with 6x4 and 6x6 wheel arrangement, as well as 7.5-t front loaders. A broad range of concrete mixing machinery has been designed, and their commercial-scale manufacture has been launched.
Among novelty products I can mention the above discussed stationary and trailed concrete pumps and hydraulic dispensing guns highly appreciated by construction companies in Minsk.
Mogilev Railway Car Building Plant was established at the MoAZ site as a new line of PO BelAZ business.
– BelAZ of today is the manufacture of transport machinery for surface and underground mining operations. It is logical to expect that your next step in production diversification might be the launch of your own manufacture of mine shovels, as, so to say, a match machine to a mine road transport machinery. It is a pattern now being followed by some of your competitors. Did you consider this opportunity of BelAZ development at least for your long-term planning?
– Today it is not an easy task to launch the manufacture of shovels for technical and economic reasons. There is a great number of shovel manufacturers worldwide, and we consider an opportunity of developing the relations of partnership with them and even the establishment of a multinational corporation in the future. While today it is important to focus our efforts on what we can do best: using our proven practices, skilled labor and high-tech equipment, in cooperation with the users of our machines, we manufacture the products, which ensure the enhancement of the operation efficiency of out customers. – The status of the member of the community of leading mining and road-construction machinery manufacturers com- mits you to participate in all important exhibitions and image- building events worldwide.At what exhibitions have you displayed your products, including the events of recent years?
Where do you have a status of a regular exhibitor, and what fairs do you attend occasionally? What determines the form of your participation in different exhibitions?
– Every year BelAZ participates in more than 50 exhibitions and fairs hosted by Belarus, CIS and other foreign countries. In Russia we participate in our traditional mining exhibitions, such as, Ugol Rossii&Mining in Novokuznetsk, Mining World Central Asia in Alma-Aty, EXPOCoal in Kemerovo, Trade Shaw: Mining: Technologies, Equipment. Specialized Machinery held concurrently with the Ural Mining Forum in Yekaterinburg and many other shows. The geography of exhibitions with BelAZ participation is ever expanding, and today we aim at the participation in all large events of the kind for the mining sector together with our dealers. MINExpo-2012 is the one we are going to display our products in the nearest future, It will be held in September 2012 in Las Vegas (Nevada, USA). It is not the first time BelAZ participates in MINExpo. However, it is probably the first time, when our company will be represented at the greatest world mining forum at such a large scale in the literal sense and figuratively. The dump truck – BelAZ-75603 with the greatest payload among the available machinery will represent BelAZ Company at MINExpo 2012. Perhaps, the words, which are most often used by the experts characterizing this machine, are "novel" and "improved". A comfortable cab of new design, improved safety characteristics, an active system of video surveillance with its video cameras, radars and a thermal driver's sight, as well as an advanced lighting system in combination with BelAZ traditional comfort of travelling provide the best workplace for operators. While the improved traction and performance characteristics of the dump truck determined by the application of an IGBT drive, a multifunctional diagnostics system, fast motor and hydraulics refuelling system in addition to commonly recognized advantages of Byelorussian mine transport machinery provide for low cost of mine transport processes.
At the BelAZ booth #10070 of Silver Lot outdoor area the Company will offer the information about its novel developments. Mining companies are welcome to our exhibit site. Visit us at MINExpo, we have much to be discussed with our regular and prospective customers.
– Today, the main facility of BelAZ is located in Zhodino.Do you have any other branches, subsidiaries besides the above mentioned MoAZ and Starodorozhsky Mechanical Works?
– Today, in addition to its main asset, namely, OJSC Belarusian Autoworks, BelAZ also incorporates Slutsk Hoisting and Transport Equipment Works in Slutsk; CJSC Mogilev Railway Car Building Plant (MVZ) in Mogilev; OJSC Starodorozhsky Mechanical Works in Starye Dorogi; OJSC Kuzlitmash in Pinsk and OJSC BelAZServis (all of them except Works in Slutsk are subsidiary companies). OJSC Belarusian Autoworks has also a branch in Mogilev, i.e. Mogilev Autoworks named after S.M. Kirov, and is a founder (shareholder) of some assets in the territory of Belarus, Russia, Ukraine, Kazakhstan, and China.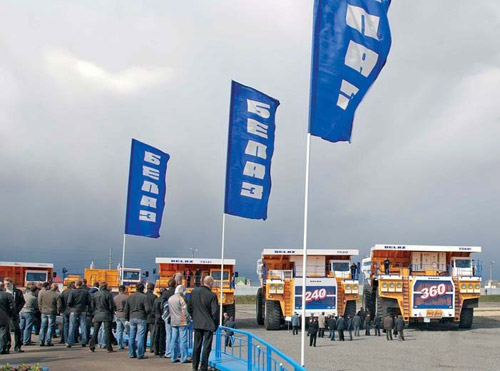 Scientific and practical conference "Career Transport", which is held annually in PO BelAZ
Thus, we continuously expand both the geography of our product supply, and the geography of manufacture.
– Modern BelAZ dump trucks can be manufactured based on broad-scale cooperation with numerous partners – suppliers, which are commonly recognized leaders in their segments.
Will you please tell us in more detail about your cooperation with component suppliers? What are they? As imported components evidently increase the cost and price of your products, what can your customers get from this sort of BelAZ cooperation in addition to higher prices?
– In its production activities BelAZ closely cooperates with leading manufacturers of components, such as, Cummins, MTU, BridgeStone, PJSC Tatelekromash Holding Company, Sibelektroprivod OOO, Silovye Mashiny OAO, JSC Belshina, etc. As a result of this cooperation, our Company and our customers in their turn get the most important thing: advanced engineering and performance standards of our machinery, and, as a consequence, their high competitiveness in the world market.
– Such a well-known fact about the development of a radiocontrolled dump truck in the BelAZ R&D Center can say much for the industry experts.At least, it is an evidence of BelAZ high R&D and engineering capacities, as well as it can prove the fact that you forecast the future demand for your machinery and aim at specific customers. Is it actually true? What other incentives have made your R&D Center design such machines?
– The inclusion of the "unmanned" dump truck in the BelAZ product line was aimed at the elimination of several problems. Companies operating the mine machinery were continuously faced with the lack of skilled dump-truck operators, whose physical state should be in compliance with rather strict requirements.
Moreover, many companies have 12-hour shifts. One can imagine how difficult it may be for any person to stay alone, I the absence of any comfort, at a 2-storey building height, having even no coffeemaker, and even no boss nearby...
The first prototype was demonstrated to the participants of the BelAZ-hosted Mine Transport Annual Conference. Today, work is under way on the refinement of the machine design and performance characteristics, as this machine has attracted the interest of nearly all of our regular customers, including open pits internationally. The importance of this novelty development and the interest of our customers to it is proved by the Winners Certificate for the nomination "The Best Commercial Exhibit/Project at the Largest Russian Exhibition INNOPROM 2012", awarded to BelAZ-75137 mine dump-truck with electromechanical transmission and remote control.
– Manufacture of the first prototypes of 320–360-t dump trucks has moved BelAZ to the highest level of achievements.We are quite aware of the fact that dump truck of this pay-load category cannot be supplied to an open pit for mere replacement of 130-t or even of 220-t dump trucks. Special geological conditions are only suitable for their operation.
Will you please tell us about pilot operation of these machines, plans and customers'orders: what companies in the CIS and worldwide can be viewed as the users of this machinery?
– For Belarusian Autoworks the manufacture of 320–360-t dump trucks is an important step in gaining the access to the world markets.
In 2005, we manufactured the first 320- t mine dump truck. It was successfully tested at the test site of Autoworks and in conditions of open pits. The tests proved the feasibility of engineering approaches incorporated in the design of the dump truck.
But the Company did not rest on its laurels, and in 2010, on the basis of 320- t BelAZ-75600 the first 360-t BelAZ-75601 was manufactured, which was standardized as a 320-t dump truck by most of its components.
At this stage of development of the world mining machinery manufacture the 360-t BelAZ dump truck is one of the biggest mine dump trucks in the world, and the largest dump truck in operation in the mining industry of the Russian Federation.
Today, such machinery is successfully traded in Russia for mines of Kuzbassrazrezugol Coal Company and Sibirsky Delovoy Soyuz Holding Company.
The first 360-t dump truck was put in operation in 2011 at Chernigovets opencast coal mine in Kemerovo Oblast. The dump truck of such payload is the first machine of the kind operated by mines of SDS-Ugol Holding Company.
Application of this type of mine dump trucks in the mining sector of Russia has significantly enhanced the performance and cut the cost of production and transportation of mineral materials. Even with high cost of the dump truck, expenditures for the machine delivery to the site, as well as for the development and maintenance of the infrastructure the payback period for the dump truck of such payload is actually shorter than for other machines. The specifications of mine dump trucks of the BelAZ-7560 series provide for 35–40% enhancement of the performance, and the reduction of coal production costs by surface methods accordingly.
As it has been mentioned already, a 360-t BelAZ dump truck will be exhibited in Las Vegas at MINExpo, and we hope that this will become a new step of BelAZ mine dump truck on its way to the world market.
– Once BelAZ was recognized a winner in the competition of 450-t super-heavy mine dump truck design project reports. What is the progress of the dump truck design and manufacture of the prototype?
Are there any new challengers and customers for such machines?
– Currently, BelAZ R&D Center is working on the design of a 420–450-t BelAZ- 7571 mine dump truck, which represents a new category of mine dump trucks in the BelAZ product line. It is planned to demonstrate the prototype to mining community in the first half of the next year. At this stage I would not prefer to discuss its design features and future customers. I can only tell you that the interest to the machine of this category was expressed not only by Russian but also by some foreign mining companies.
– Our previous questions by itself cover the theme of upcoming trends of development of surface and underground mine transport.What is the opinion of BelAZ R&D Center experts on this matter, and what do they already have of their computerized desks?
– Plans of the R&D Center include a number of new themes now being dug by its designers and engineers. I would not prefer discussing a purely engineering aspect of this issue. I can only tell you that this project is aimed at the enhancement of unit capacity both of new and available BelAZ products, which are now being modernized, and at the improvement of performance of mines, for which we manufacture our machinery, and at the prosperity of everybody, who operate our machines.
– In 2013,BelAZ will celebrate its 65th Anniversary.Such events add more worries to plant managers,however they also make them summarize the results of their work based on the following criteria: what results of their plant operation make them happy,warm their hearts,and what problems keep them on the hop and prevent from the soft sleep after a day of work? What do you think, which of the production achievements of the BelAZ team could be viewed a well-deserved present to this anniversary?
– Today, Belarusian Autoworks (BELAZ) is the largest world manufacturer of mine dump trucks: every third mine dump truck in the world is manufactured in the Republic of Belarus by Autoworks in Zhodino, which products are traded in more than 70 countries of the world. BelAZ aggressively conquers new markets for its products, refining the design of already available machines and continuously expanding the family of machines, manufacture capacities, and exports. Due to custom- tailored approach to every of its customers, improvement of the quality of products and services it successfully competes with large foreign manufacturers.
Today, the heavy-duty mine machinery demand is ever growing. For the expansion of production and exports of heavy-duty mine dump trucks the Company has approved a Comprehensive Programme for Main Areas of Capacity Building, and Expansion of the Manufacture of Mine Dump Trucks for the Period of 2011–2014. One of thess areas has been discussed here already: the construction of new facilities for No 3 block of workshops and a workshop for test running and trimming of 220–230-t mine dump trucks. It is planned to complete the construction and launch the manufacture of mine dump trucks in the new workshops in the first half of 2013.
Thus, this event and the manufacture of the 450-t dump truck will become a well-deserved present for the 65th Anniversary of our Company. It will be a present for us and, as I believe, for miners.
– Finalizing this interview we would like to wish you personally and your large team of BelAZ Company further success for the benefit of the mining industry development, in the CIS countries in particular, and to wish you also not to rest on the laurels but to further refine your image of the world machinery manufacturer with your products.
– Thank you for your good wishes.
Questions have been prepared by M.N. Kotrovsky, Deputy Editor-in Chief, Gornaya Promyshlennost Journal.
Mining
Industry
Journal
№2
2012,
p.6