Development
strategy
and
new
line
of
mining
excavators
manufactured
by
IZ-KARTEX
(OMZ
Group)
A.R.
Ganin,
General
Director
IZ-KARTEX
named
after
P.G.
Korobkov,
Ltd.
A.V.
Samolazov,
Development
Director
IZ-KARTEX
named
after
P.G.
Korobkov,
Ltd.
T.V.
Donchenko,
Head
of
Marketing
department
IZ-KARTEX
named
after
P.G.
Korobkov,
Ltd.
IZ-KARTEX named after P.G. Korobkov, Ltd. is a part of OMZ Group, the largest heavy equipment manufacturers in Russia. OMZ specialises in the manufacture of equipment for nuclear power, mining, metallurgy and oil and gas industries. Its main production site and headquarters are in St. Petersburg, Russia.
Part of OMZ's mining business, IZ-KARTEX is the largest manufacturer and supplier of electrical mine shovels in Russia, where it has been producing excavators since 1957.
During this period of time over 3000 mine electrical excavators have been manufactured and supplied, out of which more than 1200 are in operation.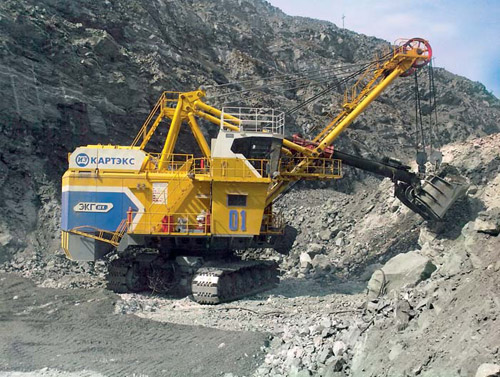 EKG-12K at Olcon opencast iron ore mine
IZ-KARTEX also produces self-propelled roller-bit drilling rigs but in much smaller volumes.
The company's products are supplied to mining enterprises in many countries, including Russia, Ukraine, Kazakhstan, Uzbekistan, Mongolia, China, India, Vietnam. Its mine excavators form the basis of the extraction-and-loading machinery fleet at the biggest mining enterprises in Russia and are used for basic mining extraction in a number of the CIS countries including Kazakhstan, Ukraine and Uzbekistan.
The
excavator
market
in
Russia
and
the
CIS
The excavator equipment market in Russia and CIS countries differs from the markets in other large mining countries such as Australia, Brazil, Canada, Chile, Indonesia, Peru and the US. The first difference relates to the mine excavator bucket capacity.
Excavators with a bucket capacity of 8–15 m3, such as IZ-KARTEX EKG-10 and EKG-15, make up the bulk of those used in medium- and large-scale mining operations in Russia and the CIS. Unusually, in Russia and the CIS these are generally electric, whereas hydraulic excavators tend to dominate this capacity range in other regions.
EKG10 at Korshunovsky opencast iron ore mine
This can be explained by the availability of support infrastructure at mines in Russia and the CIS for EKG-10 and EKG-15 excavators. They are also cheaper compared to foreign excavators and are better adapted to operate in the geological and climatic conditions found in the region.
Other factors influencing the excavator market in Russia and the CIS include the following:
- A long period of stagnation of Russian industry including heavy machinebuilding as a result of transfer from a planned economy to a market economy between 1990–2000. In these years, the development of the company and new equipment models stopped due to the lack of market demand.
- The majority of main deposits have been designed for excavators with a bucket capacity up to 15 m3 and dump trucks with the carrying capacity up to 140 t.
- Rather conservative approach of design organisations and mining enterprises.
- Lack of Russian-made excavators with a bucket capacity over 15m3 until 2010.
EKG18R at Taldinsky opencast coal mine
Since 2000 though, major mining enterprises began to express their interest in heavier and more modern excavators as part of efforts to reduce costs, optimise mining and transport operations, and build up extraction volumes. There has been a gradual shift in demand towards excavators with a bucket capacity of 20–45 m3 and above.
Responding to this, in 2007–2008, IZ-KARTEX outlined a development strategy for the production of a new line of mine excavators with a bucket capacity ranging from 8–70 m3 (Figure 1). Introducing a new product line There are two fundamental concepts for the design of electrical excavators: excavators with a rack-and-pinion crowd mechanism and rope excavators with a rope crowd mechanism (in 2008, Bucyrus introduced a third design version of the thrusting engine: hydraulic).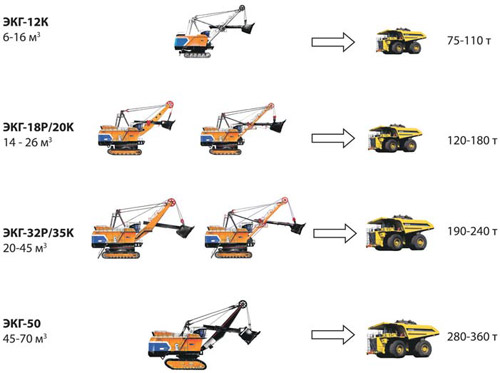 Figure 1 New line of mine excavators manufactured by IZKARTEX
IZ-KARTEX decided upon unified design for its excavators (groups II and III; see Figure 1): depending on customer preferences and development conditions, the excavators can be supplied with either the rope (K) or rack-and-pinion (R) design within the framework of a single basic platform. Excavator models differ only in the working equipment (bucket, boom, handle) to be installed in the rotary platform bracket. The excavator units share 80% of the same parts.
The key principle for the new generation IZ-KARTEX excavators is to comply them with dump trucks' loading capacity.
The main efficiency parameters are: 3–5 loading runs, correspondence between excavator and quarry characteristics; and moreover, the proper customer service which is ensured by the regional OMZ service centres.
The first new product line excavator, EKG-12K with the bucket capacity of 12 m3 and rope thrust, was delivered to Olenegorsk opencast iron ore mine (Olcon OJSC) in late 2009. It was tested for half a year, and then accepted into operation successfully. In 2010–2011 other EKG-12K excavators have been delivered to Russian mining enterprises.
The next step was EKG-18R excavator, with bucket capacity of 18 m3 and rackand- pinion thrust. In 2012–2011 two excavators were delivered to Taldinsky opencast coal mine.
In 2011 EKG-32R – the most powerful shovel in Russian excavator building ever – has been manufactured and delivered to Krasnobrodskiy opencast coal mine. EKG-32R is the modern hi-tech excavator, fully designed and manufactured in Russia – from the project lay-out, design and engineering to the work materials and all the main parts.
Only three years have come from the EKG-32R project beginning to its launching. Forming the lay-out, specifications and documentation package took about 18 months, the manufacture planning and pilot item fabrication took a year, and the final assembling and fitting took only three months (was pursued by regional service center, OMZ-Sibir-Service).
The market launch of that innovative excavator in such short terms became possible because of using the cutting-edge computer technologies, such as advanced CAD system.
EKG-32R is designed for quarries with 20 m maximum high, in compliance with dump trucks with 190–240 t loading capacity. The main bucket capacity is 32 m3 and the bucket capacity range is 25–42 m3.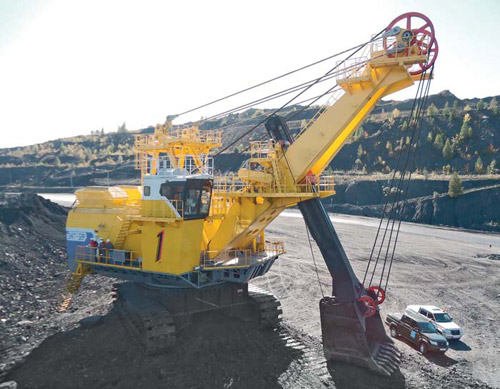 EKG-32R at Krasnobrodskiy opencast coal mine
The main specifications for the new generation IZ-KARTEX excavators consist of the following:
- Adapting the best engineering concepts approved by Russian and foreign excavator designers;
- Information and diagnostics system providing the protection of mechanical and electrical equipment and displaying the excavator operating information on the monitor screen;
- Energy-saving AC/DC drive;
- Optimizing the excavator parameters due to modern design approach, 3D CAD system using and unique computer programs which were developed in the company's engineering center;
- Comfortable and ergonomical working conditions; cabin module designed for operator comfort with a room for rest, sanitary arrangements and improved visibility of the working area and motion path;
- Improved access and the expansion of the maintenance area and passageways;
- Modular filtration and ventilation plant of increased performance; - Integrated fire extinguisher system;
- Minimum scope of maintenance;
- Reduction of the spare parts required due to a high degree of unification of rope and rack-and-pinion excavators;
- Centralised automatic lubrication system with the use of modern lubricants;
- New original aesthetic design.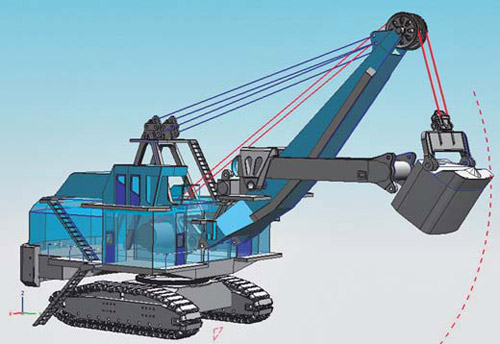 Figure 2 EKG-50 (project)
Considering the advantages listed above and the achievements, EKG-12K, EKG-18R, EKG-32R could be named top-level shovels of the Russian excavator manufacture nowadays.
Further goals are already set – the company is planning to manufacture and supply EKG-50 excavator (Figure 2) with the bucket capacity of 60 m3.
Key
words:
excavators,
excavator,
kartex,
russia,
capacity,
ekg,
mining,
bucket,
omz,
equipment
Mining
Industry
Journal
№2
2012,
p.26