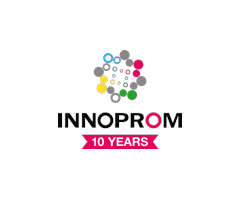 International Industrial Fair
Ekaterinburg, Russia
Теl.: 8-800-700-82-31; +967 137 4183
E-mail: This email address is being protected from spambots. You need JavaScript enabled to view it.
www.innoprom.com
INNOPROM is an International Industrial Fair held in Ekaterinburg annually since 2010.
INNOPROM is the main industrial, trade and export platform in Russia. As one of the key sites of the Ministry of industry and trade of the Russian Federation, INNOPROM serves as a platform where the foundations of industrial policy are laid. About 80% of the exhibition visitors are professional buyers from around the world, specialists from industrial enterprises, who make decisions about the introduction of new products and technologies in the production.
The principles of INNOPROM are:
to organize a trade fair rooted in the priorities driving world industry and technology at present – and on the priorities that underpin Russia's program of industrial and manufacturing development
INNOPROM sets out a platform for international cooperation
The agenda of INNOPROM events is shaped by the interests and opinions of industry experts
The sharply-focused events within the scope of INNOPROM are themed around the most pressing issues
Globally-respected experts give their input and insight on pivotal matters of concern.
X INNOPROM will be held from 8th to 11th July 2019
Opening times
July 8-10 9:00 a.m. - 6:00 p.m.
July 11 9:00 a.m. - 5:00 p.m.