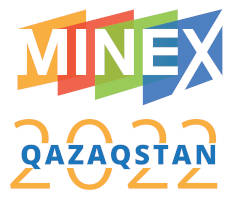 12th MINEX Kazakhstan Mining & Exploration Forum
Nur-Sultan, Republic of Kazakhstan
Теl. +1 416 362 1969
E-mail: This email address is being protected from spambots. You need JavaScript enabled to view it. This email address is being protected from spambots. You need JavaScript enabled to view it.
https://2022.minexkazakhstan.com
After an almost two-year suspension, the Government of Kazakhstan has restored visa-free travel for 57 countries and is lifting restrictions on the organisation of major international events. Following these much-anticipated developments, we are delighted to announce that the 12th MINEX Kazakhstan Mining & Exploration Forum will be held on 6 – 7 April 2022 in Nur-Sultan. The Forum is organised under the general theme "Sustainable development, decarbonisation and industrial transformation" in a hybrid format which combines in-person and remote participation options.
Options and terms for participation in the Forum are published in the "registration hub" section.
About
the
Forum
MINEX Forum has been held in Kazakhstan since 2010 and is one of the most impactful industry events in Central Asia.
The upcoming Forum will discuss key initiatives and projets in subsoil use regulation and mining industry in Kazakhstan and Central Asia.
The heads of leading companies, representatives of ministries and committees, investors and international experts will take part in discussions.
Development of mineral resource potential
Exploration – Resources for Growth and Efficiency
Decarbonisation and Carbon neutrality
Technological transformation and Digitalisation
Mining Sustainable Development strategies
Technological and Social aspects of mine closures
Mining ESG Investment and Financing
Mining
Trade
&
Investment
Show
An exhibition of innovative mining solutions and investment projects is traditionally organised alongside the Forum.
Exhibiting companies are offered a wide range of opportunities for presenting their projects, technological solutions, and services to senior managers and directors of mining and geological enterprises operating in Kazakhstan and Central Asia.
MineESG
Competition
On the sidelines of the Forum, we regularly organise industry competitions. This year for the first time we are holding the competition of ESG projects in the mining industry of Kazakhstan.
Our objective is to popularise and help to scale up the unique experiences of mining and metallurgical companies in reducing environmental pollution, protecting the biosphere, preventing environmental risks, and supporting socio-economic development in the Republic of Kazakhstan.