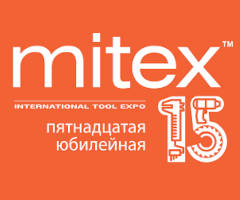 Moscow International Trade Fair of Tools, Equipment and Technology
Russia, Moscow
Теl. +7 (495) 925-65-61/62
E-mail: This email address is being protected from spambots. You need JavaScript enabled to view it.
https://www.mitexpo.ru
The trade organizer Euroexpo is glad to inform you that the Moscow International Tools Exhibition MITEX 2021 will take place from 8th till 11th of November 2022 at «Expocenter» Krasnaya Presnya!
MITEX is one of the biggest tools exhibitions in Russia with hundreds of participants every year.
MITEX is the meeting point of producers, distributors and consumers of tools. At the exhibition are presented world and Russian leading companies for tools, hand tools, abrasives, fittings, diesel and electrical generators, professional cleaning and thermal equipment, snow blowers. Every year big companies like Interskol, BOSCH, Black&Decker, TTI, Global Garden Products, Sparky, LIT Trading, Husqvarna, Metabo, Enkor, Vneshtechcontract, Kaercher and many other take part in the exhibition.