Pull-Type
Scrapers
Provide
a
Cost-Effective
Alternative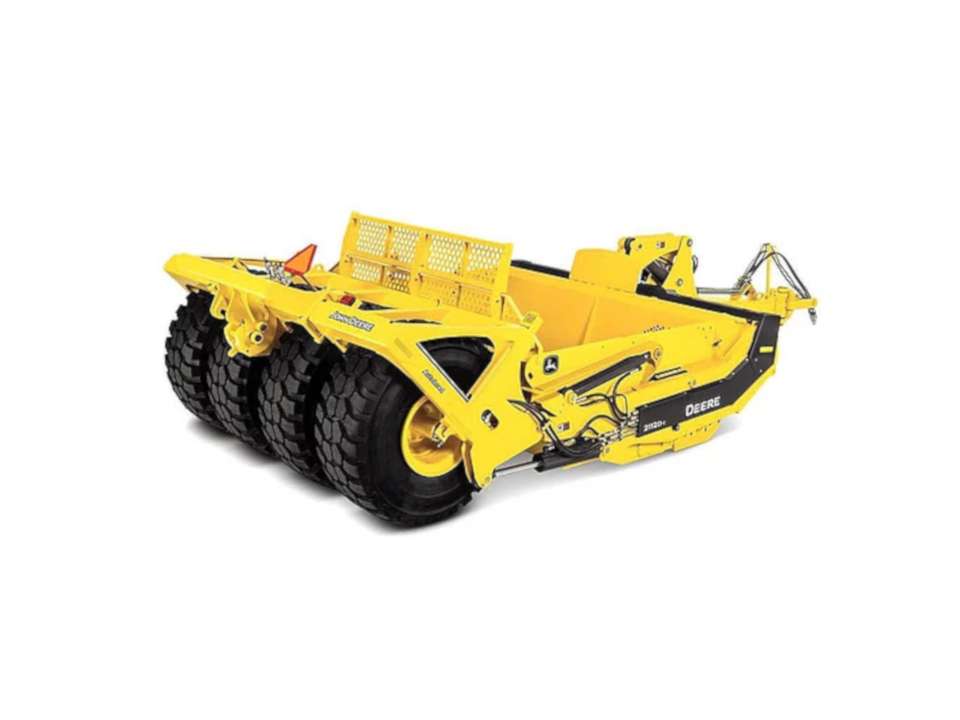 To reduce costs and to improve production, earthmoving contractors are increasingly drawn to pull-type scrapers to move large volumes of material on a wide range of job sites. We sat down with in-house experts at leading scraper manufacturers to discuss the latest design innovations and to learn how contractors can capitalize on these new features.
Key
Insights
for
Buyers
Contractors have gravitated toward the drawn-scraper system to lower their cost base.
Dump mechanics, hitch design, and wheel placement variations are leading scraper design innovations.
Although converted articulated dump trucks are a popular towing vehicle for pull-behind scrapers, tractors remain the staple.
Overview
of
the
pull-type
scraper
market
"Pull-type," also known as "drawn" or "towed," scrapers have become a primary method for moving large volumes of material on a wide range of job sites. Although the self-propelled scraper (with the bowl or body of the machine integral with the prime mover) remains a popular machine with some contractors, the pull-type scraper continues to gain market share.
"As with any method of moving material, in order for contractors to remain competitive, they must consistently look for ways to reduce costs and/or increase production to ultimately improve their per-yard profitability," says Maryanne Graves, product marketing manager, John Deere Construction & Forestry. "For this primary reason, many contractors have gravitated to the drawn-scraper system to lower their cost base—due to lower acquisition costs, lower fuel consumption, and reduced support-equipment requirements."
The benefits of using pull-type scrapers, says Shane Kroeker, vice president, marketing, K-Tec Earthmovers, is evidenced by market growth.
"The North American market for pull-type scrapers above 25 cubic yards capacity is continually increasing year over year," says Kroeker. "The shift is apparent, that contractors need these efficient pieces of earthmoving equipment to complete three functions—loading material, transporting material, and smoothly spreading material—all with one power unit. This is a shift of thinking away from using an excavator to load a line of waiting trucks, with multiple engines burning fuel and idle operators."
John Deere's Graves is basically in agreement, but does add a caution.
"The drawn-scraper marketplace is no different than that for any type of earthmoving equipment," says Graves. "After a significant dip in the market a decade ago, the entire drawn-scraper market has been on a steady rebound. Even though the current market shows promise of continued strengthening in the next few years, the effect of new housing starts and lending for large commercial projects plays a big role in the continuing demand for scrapers used on large dirt-moving projects."
With what presently appears to be an increasing use of pull-type scrapers, contractors seem to be closely evaluating these earthmoving systems and identifying ways to further capitalize on the system's benefits.
"Earthmoving contractors are continuing to seek out higher-capacity pull-scrapers," says K-Tec's Kroeker. "They're moving away from multiple smaller units—those with less than a 24 cubic yard-capacity and trained together—in favor of a single, larger pan [bowl or body] of 28 cubic yards or more. This is due in part to having higher-horsepower tractors or ADTs [articulated dump trucks] as power units to self-load high-capacity scrapers. Additionally, the use of high-tensile-strength steel is becoming more important in scraper design, allowing the contractor to transport less iron and more dirt."
John Deere's Graves cites an additional reason for contractors favoring the single-scraper configuration.
"For the last decade, there has been a shift to larger and larger drawn scrapers," says Graves. "As scrapers get larger and larger, contractors are looking to pull these larger models in more of a single configuration, versus the traditional tandem set up. According to contractors, a contributing factor is that job sites are getting smaller, and therefore aren't conducive to longer tandem scrapers."
Design
variations
Several design configurations are used for pull-type scrapers. John Deere's Graves outlines the basic approaches.
"There are several types of drawn scrapers, differing in three characteristics," says Graves. "The first is how they dump material; the second is how they lift/lower; and the third is how they connect to the power unit."
According to Graves, most pull-type scrapers dump material in one of two ways: the entire body or bowl of the scraper rotates (much as a wheel loader bucket dumps), or material can be pushed from the body with an ejector wall (or gate) over a fixed cutting edge.
(In a few instances, pull-type-scraper manufacturers might offer an "elevating" design, in which a series of flights or paddles, attached to hydraulically driven chains, lift material from behind the cutting edge and deposit it in the bowl. The elevator then might reverse direction to assist in unloading.)
The difference in lift/lower functions, says Graves, can be categorized as either front-lift or rear-lift. The front-lift scraper pivots at or around the cutting edge and facilitates blade response; the rear-lift type pivots directly in front of the rear wheels and provides a flatter cutting-edge angle to facilitate loading in softer material.
The type of connection between the scraper and the towing vehicle is another design variation.
"A direct-hitch mount is the connection method used for most large drawn scrapers behind high-horsepower tractors," says Graves. "That said, a major trend in the drawn-scraper market that originally popped up about 20 years ago—but really didn't start growing in popularity until the last five or six years—is the concept of pulling scrapers with ADTs already in the fleet—by converting them for use with scrapers.
"Early versions of converted ADTs had a regular drawbar, similar to a four-wheel-drive tractor, that accommodated the scraper's straight-tongue towing design," says Graves. "More recently, scraper designs have been modified with a gooseneck arrangement, which moves the scraper mounting location forward and on top of the ADT frame—transferring the load forward for improved traction and better maneuverability, due to a shorter turning radius."
Yet another design variation for pull-type scrapers is wheel placement. The majority of pull-type scrapers use wheels only at the rear of the bowl, but a few models are available with a "dolly-wheel" design that places wheels at the front as well. According to John Deere's Graves, the dolly-wheel scraper typically is towed by larger steel-track crawler tractors, because the design minimizes the load on the rear of the tractor's undercarriage. The dolly-type design remains popular in small pockets around the country, says Graves, typically on small job sites that combine poor underfoot conditions and short cut-to-fill lengths.
Pull-type scrapers with only rear wheels also can differ in the number and arrangement of those wheels, a variation sometimes dictated by the design of the bowl. K-Tec's Kroeker makes a case for using four wheels.
"The K-Tec design uses an ejector-type pan with four rear wheels," he says. "The four wheels allow the scraper to handle heavier loads, while also providing greater flotation in soft material, as well as increased compaction as the load is spread during dumping. The use of common tire sizes allows tires to be conveniently replaced, but different tires sizes are available for various models to accommodate unique applications."
Prime
movers
and
hydraulics
Although converted ADTs are a popular towing vehicle for pull-behind scrapers, tractors of various sorts remain the staple.
"A variety of power units can be used with pull-pan scrapers," says Kroeker, "and we don't discriminate against power-unit brands of agricultural tractors, construction tractors, crawler dozers, articulated dump trucks, or rigid-frame trucks. We encourage the contractor to capitalize on their existing fleet of 300-plus-horsepower machines to maximize utilization."
John Deere builds a number of "scraper-special" towing tractors, which vary in undercarriage design to meet the user's operating conditions—and range in horsepower from 470 to 620.
"The majority of drawn scrapers are being pulled by high-horsepower, articulated wheel tractors, largely because of their relatively simple design and low operating costs," says Graves. "In areas where conditions are more challenging and a lighter footprint is needed, contractors are leaning towards rubber-tracked tractors in either a two- or four-track configuration."
An important consideration with pull-type scrapers is the hydraulic connection between the towing vehicle.
"K-Tec's ADT Scraper Series has a special hydraulic control valve and electronic control module mounted onto the chassis truck hitch, which is connected to both the scraper in the back and the display screen and joystick in the cab to control scraper functions," says Kroeker. "The Direct Mount Series uses existing hydraulic valving on the tractor to control the bowl raise/lower, gate open/close, and ejector extend/retract functions."
Graves adds detail to how the towing vehicle and scraper connect hydraulically.
"Typically, there are two ways scrapers are connected to the power unit hydraulically, each way distinguished from the other, basically, by the location of the control valve. Usually, in high-horsepower tractor applications, the control valve is located on the tractor side and each function of the scraper connects to the tractor via a set of hydraulic lines. In ADT applications, the valve is usually mounted on the scraper itself, and the hydraulic connection to the power unit consists of a supply, return, and possibly a load-sense line. This is largely due to the control valve in ADTs not having the required number of sections to control the needed functions of a scraper."
---
About CONEXPO Connect
As the masterminds behind CONEXPO, the , the ICUEE Demo Expo, and World of Asphalt, we've brought together in-house experts at leading construction brands, plus an army of experienced contractors and material producers like you, conveniently all on one innovative online platform. Reach out to key contacts at equipment manufacturers (without the sales pitch!), preview all the latest construction products, and post questions for other contractors to help answer. It's a powerful network of industry experts for you to tap into -- everyday. Join Now