Mini
Excavators:
The
Swiss
Army
Knives
of
the
Industry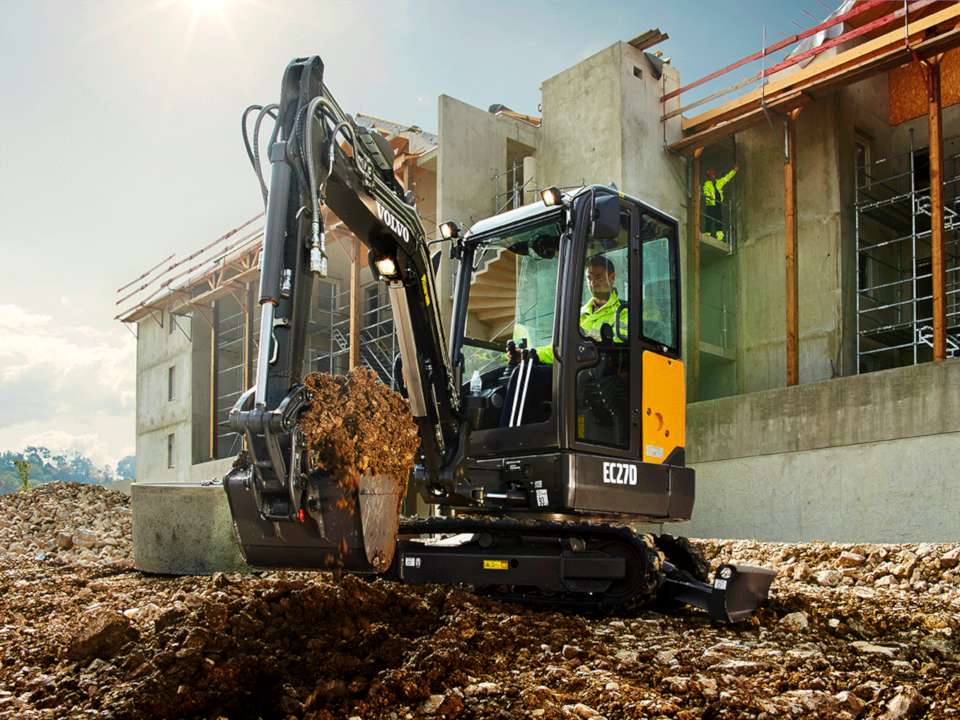 We sat down with in-house experts at leading mini excavator brands to discuss the latest design innovations and to get to the bottom of what makes these versatile machines so popular in today's market.
We sat down with in-house experts at leading mini excavator brands to discuss the latest design innovations and to get to the bottom of what makes these versatile machines so popular in today's market.
By Construction Equipment Magazine
Key Insights for Buyers
Whether defined as "compact" or "mini", small excavators are one the most popular pieces of construction equipment in the market today, due to their versatility, transportability, and lower cost.
Configuration options for tail-swing, booms, undercarriages, and tracks, ensures the machine is customized to meet whatever the job needs.
When buying attachments, consider hydraulic horsepower requirements.
See "Views from the front" below to get in-depth overviews of new features every buyer should consider.
Overview of the compact and mini excavator market
Reviewing the models that various equipment manufacturers with a full line of hydraulic excavators list as "mini" or "compact" reveals that opinions differ about how large these machine can be and still claim that designation. At the small end are models weighing less than 2,000 pounds and having less than 15 horsepower, and the top end are models approaching 20,000 pounds in operating weight and having more than 60 horsepower. A few models at the top end, using the longest standard digging arm, can approach 14 feet in digging depth.
A number of manufacturers define mini or compact as those models with a top operating weight of around 6 metric tons, a little more than 13,000 pounds. Although that number is arbitrary, perhaps it's a workable threshold for this discussion. Given that boundary, most models in that upper weight class have maximum digging depths of around 12 feet, or in some instances, a few inches more.
However one might define these machines, there's no debate that they are among the best selling equipment types in today's market.
"The compact excavator market is on an incredible upswing in regards to market size for the last few years," says Todd Dohnal, dealer development manager, Kobelco Construction Machinery U.S.A. "Just when we believe that the market cannot grow anymore, we hit another high."
Granted, of course, is that a significant number of compact excavators are sold into rental fleets. The experts debate about the exact number, but estimates are between 40 and 60 percent. On the other hand, some of these same experts see a downward trend in sales to rental firms, saying that the relative affordability of the compact excavator encourages a growing number of end-user buyers to make the investment in a compact via an outright purchase—or perhaps ease into ownership with a rent-to-buy arrangement.
So, what makes small hydraulic excavators so popular?
Users give a number of reasons. At the small end of the mini lineup, some users make the point that these tiny machines are replacing manual labor—a more efficient and less expensive way to dig a hole than with two laborers using shovels.
Other users are opting to replace backhoe-loaders with a compact excavator and a compact track loader (or skid steer loader), making the point that the two machines allow excavating and loading operations to proceed at the same time, which the backhoe can't do. (Backhoe-loader manufacturers, however, assure the market that these utilitarian machines are not going away anytime soon.)
Also, simply the compact dimensions of these machines appeal to many users, especially those who must frequently work in confined spaces. Easier transport is also on the list of mini excavator benefits—easier to move a small excavator and a small loader on a small trailer, say some users, compared with moving a backhoe loader.
Volvo Construction Equipment's John Comrie, product manager, says that versatility is also high on the list.
"The compact excavator is the tool of choice for a growing customer base," says Comrie. "Small excavators are gaining a reputation as being 'the Swiss army knives of the industry,' capable of adapting and changing to meet whatever the job needs. Now you can have a piece of equipment that doubles as an excavator, a grader, a post hole digger, or a hammer simply by switching attachments."
As more types of attachments become available—hydraulic thumbs are becoming popular, for example, as are vibratory-plate compactors that might replace a walk-behind trench compactor—manufacturers caution buyers to make certain that the compact excavator's auxiliary hydraulic system is up to the task. The system, they say, needs enough flow and pressure to work efficiently. More hydraulic horsepower to run larger attachments usually means more engine horsepower and, subsequently, a larger machine.
In addition to attachments adding expanded versatility to the compact excavator, the basic configuration choices for these models also contribute to the machine's utilitarian character.
Tail-swing choices, for example, might include conventional, reduced, or zero, allowing the user to select the configuration that best matches the requirements of jobs frequently encountered. A number of these compacts also are available with a two-piece boom or a swing boom, adding extra digging flexibility and maneuverability. Undercarriages that retract to allow passage of the machine through narrow spaces also add to the compact's utility, as does the choice, in some instances, of rubber or steel tracks.
And for those compact-excavator users who need a small machine that produces no exhaust emissions, perhaps for demolition work within a building, several manufacturers offer models that operate efficiently with and without their diesel engines. These machines use a small diesel when engine exhaust is not a concern, but can switch to electrically generated hydraulic power when operating in sensitive areas.
One approach is to use a remote, electrically driven hydraulic power pack to provide hydraulic flow to the machine via a tethered hydraulic line. Wacker Neuson and Caterpillar have machines so designed. Another approach, illustrated by the Takeuchi TB216H, is to place an electric motor on-board the machine and tether the machine to an electrical power source. The on-board electric motor uses a pump group separate from that driven by the diesel.
"Performance is identical between the diesel engine and electric motor," says Lee Padgett, product manager, Takeuchi, U.S., "and the controls are the same regardless of operating mode."
Volvo's Comrie calls attention to yet another twist on compact excavator design—a wheel undercarriage—citing the company's model EW60E. The EW60E, he says, has a maximum operating weight of about 13,400 pounds, a 63-horsepower engine that uses only a diesel oxidation catalyst for aftertreatment, and can travel between jobs at 19 mph.
Views from the front
Given the popularity of compact excavators, owners of these machines and prospective buyers generally are interested in keeping up with the technology and trends that might be reflected in their next purchases. What better way to gain insight into that area than to ask a number of manufacturers what they consider design directions for the compact excavator, using their own recent models as examples.
Jason Boerger, marketing manager, Bobcat Co.:
"Compact excavators continue to evolve with new technologies that help customers work more efficiently, increasing productivity. A good example of this is the Bobcat depth-check system. This system accurately measures depth and grade, without the operator having to exit the machine, by utilizing sensors that detect the exact position of the bucket's teeth.
"This allows operators to set a desired digging depth and work against that benchmark. Because the system prevents under-digging and over-digging, there is a large reduction in time spent adjusting work already done.
"Outside the cab, technologies also are advancing. Electronic components on the new R-Series Bobcat machines, for example, meet or exceed military requirements for sealing, moisture, shock, and vibration. All Bobcat models feature an exclusive in-track swing frame, which allows the operator to get closer to the work. Bobcat swing castings and cylinders stay within the tracks when offset digging—allowing flush digging against an obstacle and increasing the ability to work in tight areas when in an offset dig position.
"Overall, compact excavator technology continues to be a benefit for contractors, because the updates are very intuitive and provide increased efficiencies. Contractors need to discern what makes sense for their fleet, and whether it will benefit their business and their operator's needs."