Excavators:
A
New
Generation
of
Excellence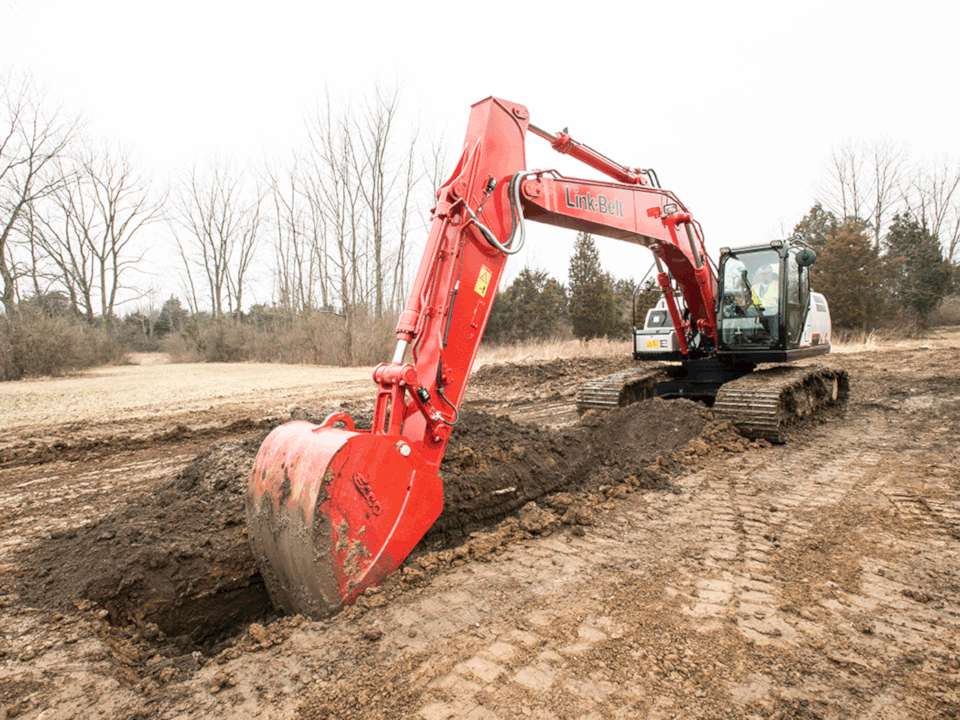 Today's excavator models are light-years ahead of their predecessors, resulting in greater efficiency, substantial fuel savings, and versatility.
Key
Insights
for
Buyers
New excavator models offer shorter tail-swing radius, greater digging power
Labor shortage drives comfort and conveniences for operators
Improved telematics interfaces make equipment data easier to digest and analyze
Guidance systems deliver project cost savings
New machine electronics and control systems provide more jobsite customization
Evolution
of
design
The evolution and refinement of the hydraulic excavator's design has been constant, with today's models light-years ahead of their predecessors in such areas as engine technology; hydraulic efficiency; electronic sophistication; operator convenience and safety; and hybrid technology that captures and stores energy, either electrically or hydraulically, and then uses that stored energy to assist certain machine functions, resulting in greater efficiency and substantial fuel savings.
And, of course, versatility—because most of these models have become "tool carriers" that can take on any number of job-site tasks. Hydraulic couplers, precisely controlled auxiliary-hydraulic systems, and the ever-increasing number of available excavator attachments allow these machines, in some instances, to replace a second, dedicated machine on site.
Views
from
the
front
Trends in this major category are best described by manufacturers, who continually refine products in response to market and customer demands. We will focus on heavy excavators with operating weights in excess of 6 metric tons, or slightly more than 13,000 pounds.
Corey Rogers, marketing manager, Hyundai Construction Equipment Americas
"The most popular machine used to be in the 21-to-24-metric-ton size class across North America. Today, as infrastructure spending grows, residential and commercial construction continues to rise, and the oil and gas sector strengthens—spurred by regulatory rollbacks and recovering demand—larger machines, in the 30-to-35-metric-ton class, have taken the lead in the North American market.
"Also, we see increased customer demand for more compact-radius machines across all product sizes, and in particular, an increasing demand for larger compact-radius machines. Today, Hyundai's largest compact-radius excavator is the HX235LCR, but we are looking at introducing larger models in the near future.
"Hyundai also sees growing demand among excavator customers for enhanced telematics and more sophisticated diagnostics capabilities, both on the machine and through remote connection. Large fleet owners and many smaller contractors are reaping a variety of benefits—including cost savings, improved maintenance, and better machine uptime—with new telematics systems.
"Lastly, machine-guidance systems and machine-control systems, both 2D and 3D, are finding quick and growing acceptance in many areas of North America. Customers are finding great project cost savings through reduced over-cut and under-cut errors, resulting in more accurate and efficient operation. Some customers who run Hyundai equipment with systems like Trimble's Earthworks 3D machine-guidance have seen up to 40 percent reductions in job time and correlated costs.
"Other smaller trends include LED lighting packages, 360-degree camera systems like Hyundai's AAVM [All Around View Monitoring] with object detection, and improved fuel efficiencies through hydraulic system tuning and electronic engine power optimization."
---
About CONEXPO Connect
As the masterminds behind CONEXPO, the ICUEE Demo Expo, and World of Asphalt, we've brought together in-house experts at leading construction brands, plus an army of experienced contractors and material producers like you, conveniently all on one innovative online platform. Reach out to key contacts at equipment manufacturers (without the sales pitch!), preview all the latest construction products, and post questions for other contractors to help answer. It's a powerful network of industry experts for you to tap into -- everyday. Join Now