Unmanned
Systems
Help
Make
Construction
More
Efficient,
Affordable,
Safer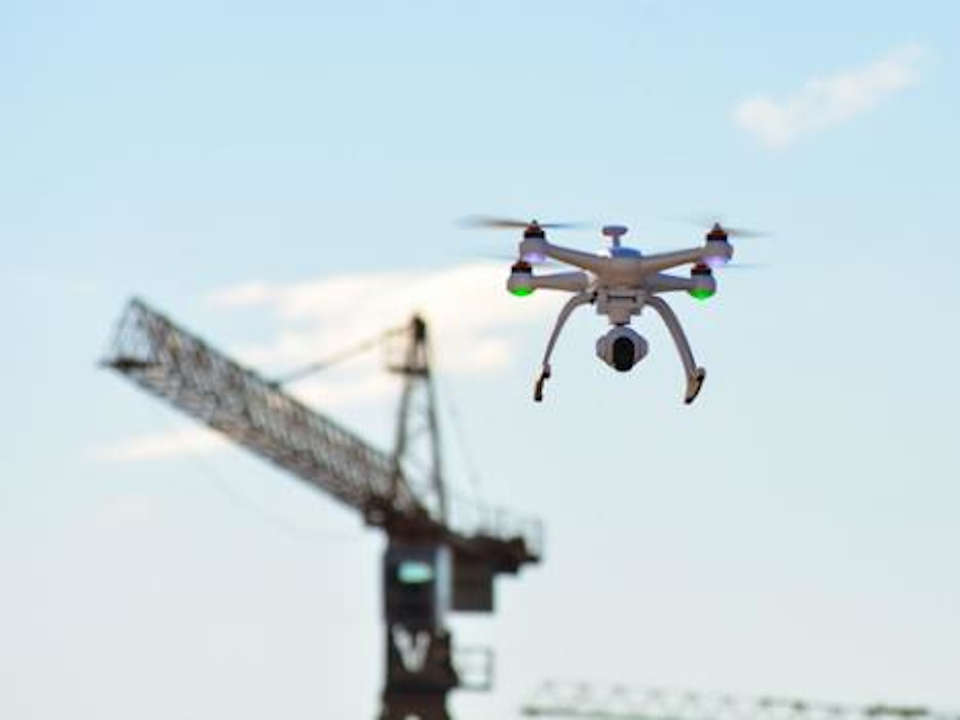 Drones and other unmanned systems are being increasingly used in the construction industry to help make it more efficient, more affordable and safer.
Drones and other unmanned systems are being increasingly used in the construction industry to help make it more efficient, more affordable and safer.
"Cost and monetary value varies per project; where we're saving is definitely with time, and it's much safer," Richard E. Lopez, national UAS operations executive for Hensel Phelps, a general contracting and construction company, told AUVSI in 2019. "It's hard to put a value on that. If we can minimize any kind of personnel from hanging off of a building — we're saving."
DroneDeploy, a drone services company, has monitored the state of the industry across a variety of fields, including construction, for years. The construction industry was the "largest and fastest growing adopter of drone technology," according to DroneDeploy's December 2018 Commercial Drone Industry Trends report. Construction, in fact, grew by 239 percent year over year.
According to the company's 2019 report, enterprise drone usage increased by 58 percent from 2016 to 2017, with the construction, mining, agriculture, surveying and real estate industries leading the pack.
In its latest 2020 report, the company notes that Stiles Construction, a commercial real estate firm in Florida, estimates it has saved four hours a week, or $2,500 per job, using drones and DroneDeploy's services.
With an industry that has more than 670,000 employers, more than 7 million employees, and creates "nearly $1.3 trillion worth of structures each year," according to Associated General Contractors of America, the adoption of UAS into the U.S. construction industry will continue to have significant repercussions.
Industry Savings
Suzanne El-Moursi, general manager of AEC (architecture, engineering, construction) and facilities management at drone services company PrecisionHawk, says use of their services saved "hundreds of thousands of dollars" during the construction of a $100 million cold storage facility in Alabama.
The aerial imagery resulting from twice-weekly drone flights led the project manager to detect "a misalignment among heating pipes that were laid," El-Moursi says. "Such a facility requires a complex foundation and when pipeline is laid, it's important to ensure it's laid in the exact position specified." Had the mistake not been caught early on, it could have become a costly fix much later in the project.
"Progress tracking and communication" is a substantial benefit of UAS; it's even the number one area of drone usage among DroneDeploy's customers (over 50 percent) according to their 2018 trend report. The second most common use is "preconstruction and site planning."
PrecisionHawk found this to be true when they helped the U.S. Veterans Administration's West Los Angeles campus save time in the planning of an extensive renovation project.
"Visual sensors were used to assess pavement conditions, thermal to assess the envelopes of buildings, and lidar to produce a high-fidelity digital twin of the 388-acre campus," El-Moursi says. Using DJI's Matrice 600 and Matrice 200, El-Mousi says the data collected over time allowed critical trends to emerge and be discovered before costly errors occurred.
Indeed, DroneDeploy's customer insights, also published in December 2018, reveal that in addition to increased safety and savings, additional benefits include "more accurate measurements" and "reduced time to data insights."
What's New in Unmanned Systems for Construction
For a focused look at unmanned technology trends and implementation best practices after CONEXPO-CON/AGG, join 8,500 colleagues May 4-7 in Boston for AUVSI XPONENTIAL 2020, the world's largest event dedicated to unmanned and autonomous systems.
Only XPONENTIAL allows you to engage with and learn from your peers in 20+ other vertical markets who have integrated unmanned systems into their operations and are eager to share their real-world best practices and data.
Experience the full spectrum of current and emerging technology from drone platforms to data management in the XPO Hall, plus increase your operational knowledge in the educational program while learning about new tools to improve training, increase safety and maximize ROI.