Leading
Aggregates
Producer
Wm.
D.
Scepaniak
Share
6
Keys
for
Business
Success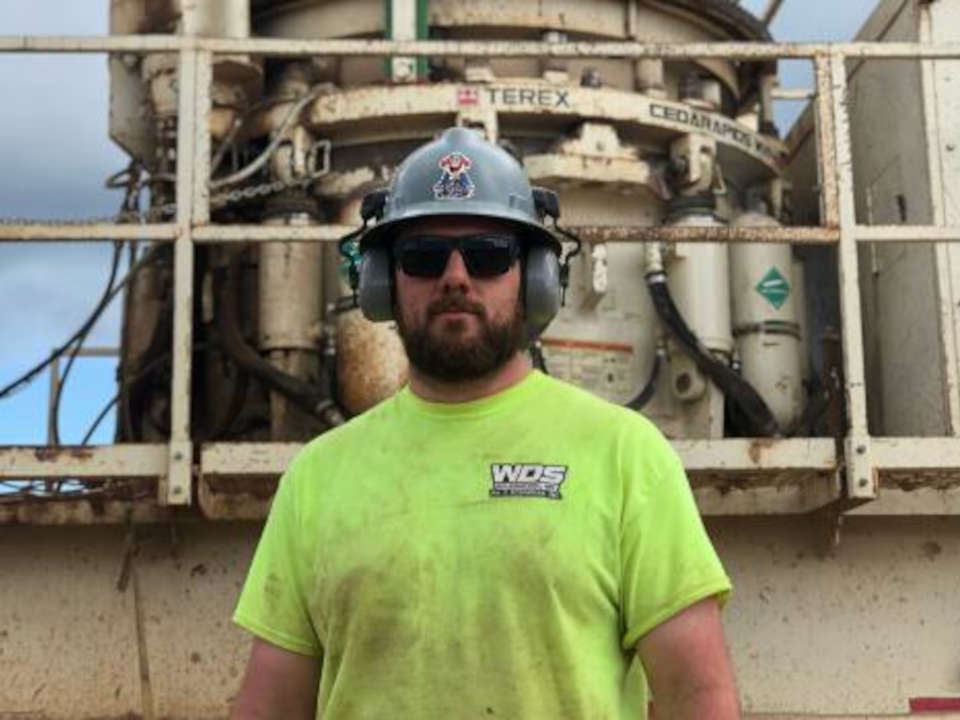 Based in Holdingford, MN, Wm. D. Scepaniak Inc. is one of the nation's leading family owned and operated producers and transporters of construction aggregate materials. The company, now in its third generation, also provides mining and construction services, including crushing and screening, washing, recycling, overburden removal, pit reclamation, aggregate hauling and placing and road building.
Based in Holdingford, MN, Wm. D. Scepaniak Inc. is one of the nation's leading family owned and operated producers and transporters of construction aggregate materials. The company, now in its third generation, also provides mining and construction services, including crushing and screening, washing, recycling, overburden removal, pit reclamation, aggregate hauling and placing and road building.
Its operations cover Minnesota, North and South Dakota, Iowa, Wyoming, Montana and Colorado.
John Scepaniak, aggregate project manager, says there are six keys to the company's longevity: open communications, recruitment, onboarding, employee development, technology and future planning.
From Hauling to Aggregate Processing
The company was begun by in the early part of the 20th century by William D. Scepaniak, Sr. A truck driver from Holdingford, MN, he primarily hauled livestock, sand and gravel locally and throughout the Midwest. After serving in WWII, he returned home and got back into the trucking business, focusing on transporting sand and gravel. He then began purchasing aggregate processing equipment to offer screened rock and sand products to his customers.
The 1960s brought consistent growth for the company's mining and construction services. In 1970, he founded Wm. D. Scepaniak, Inc. With Scepaniak's untimely passing in 1979, the business was left to his wife Rosemary and his three sons: William Jr., Robert and Joseph.
In the 2000s, William Jr.'s sons, Tony and Jake, joined the company. John, son of Joseph, came on board in 2014, as did John's younger brother Bryan in 2017. The company began adding new services and processes to expand into new markets.
The company has a fleet of 25 trucks for transporting aggregates. There are a variety of crushing, screening, washing and aggregate production machines. There are 90 employees.
Establishing Open Lines of Communication
Although Wm. D. Scepaniak, Inc.'s crews operate independently on their projects, there is communication across the company through various levels, explains John Scepaniak. The management group has a conference call every Friday afternoon to check on the status of projects, determine if changes need to be made to staffing or equipment, decide what things need to be on the company's radar for the next few weeks to stay ahead of outside threats and interior weaknesses, etc. There are also bi-weekly administration meetings.
"Communication – which is an exchange of information – is a cornerstone to business success and we are constantly looking at ways of improving it," he notes. "Open communication lines between staff and managers are key to maximizing productivity and motivation among our employees.
"There was a time when some information was withheld or shared on a need to know basis. The issue we ran into was that we were neglecting creative solutions that can come from someone with a different lens – someone not directly involved with a project. Obviously, not everyone needs to know every detail, but we now promote open communications among leaders on different projects."
Recruiting Qualified Employees
The company recently made a big change in its process for finding and hiring the best-qualified candidates for its various positions, says Scepaniak. "Up until last year, Jake and I did all the recruiting. He on the trucking side of our business and me on the mining side. "As Jake and I got busier managing projects, recruiting became tremendously more challenging. Often, we missed qualified people because they slipped through the cracks."
The recruiting process had looked like this: An ad was placed on online job sites. Every morning, Scepaniak and Jake would review the resumes and narrow them down for pre-screen telephone calls. These applicants were further narrowed now for in-person interviews. Those selected would then be background checked, drug screened, etc.
Realizing that they could no longer devote the necessary time and attention to such an important task as hiring the right people for the company's workforce, they hired an HR manager who specializes in the recruitment and selection.
"She knows what we are looking for in terms of the various positions, narrows down the resumes and does an initial phone screening," says Scepaniak. "The best candidates are then passed along to me and Jake for interview. This saves us a great deal of time and effort, enabling us to better manage things in the field."
The company also relies heavily on its current employees for recruiting, asking them for referrals. This has been effective, he says, because employees "tell it like it is about working for us. The candidate knows exactly what to expect because there is no sugar-coating things."
"While work experience is obviously important, so is attitude and personality," notes Scepaniak. "I would rather leave a seat in a machine empty for a week or two than put a bad egg in it just to move some dirt. I'm conflicted with that perspective sometimes but I think for the long-term viability of our business, it is the right thing to do."
Mentoring New Employees
For onboarding new employees, Scepaniak and Jake try and pair them up personality-wise in a mentorship program. "This is where a seasoned veteran, willing to take on someone new to the industry or the job, helps them develop the necessary knowledge and skills to grow into their job and the company," says Scepaniak. "We have seen a lot of success with this learn-as-you-go program."
Providing Development Opportunities
Another thing the company does at the end of each year is provide each employee the opportunity for a formal "sit down" with their manager. They are asked such questions as: How do the year go? What are some things you want to learn? What are some things you do not like doing? Do you want to take the next steps into leadership?
"We want to know who wants more responsibility and who is good where they are," Scepaniak explains. "We want transparency between our employees and our management group. We do not want a disconnect. We want to know their goals within our company, both personally and professionally.
"Whether an employee is with us for a few years or the remainder of their career, we want this to be one of the best jobs they have ever had. Whether that is because of the people they work with, the skills they have learned or just their experiences overall."
Implementing New Technology
Taking advantage of technology and software solutions can certainly help a business improve processes, productivity and profitability, especially when technology enables employees to better perform their jobs, says Scepaniak. "Moving to new technologies is difficult because it is so easy to carry on with the way we are doing things. Once you get over this, if you seek, you will find what you're looking for."
"Deciding upon a technology provider is challenging. The important things we look for are after-sale support, ease of use and employee integration. We try and demo technology when possible and thoroughly vette it."
He says the company also works with its OEMs who are constantly improving their technology and helping their customers know how it can help them. By way of example, Wm. D. Scepaniak Inc. runs all Caterpillar machinery. Caterpillar has technology-enabled fleet management solutions that help maximize uptime and efficiency of their equipment.
Planning for the Future
In business, it is very tempting to get caught up in life short term – week by week, crisis management, says Scepaniak. But it is very important to make the time to take a step back and look at where does your company want to be in five to 10 years, and then develop a plan for getting there.
"As we continue the transition into the third generation – me, my brother and my cousins – need to decide just what kind of a company we want to be. Regardless, we want to provide our clients and our working area with quality service and honestly. That has never changed and it never will change."
"How we are able to solve issues like employee recruitment, development and retention will determine our long-term vision. Do we want to run crushing and screening plants and aggregate transport throughout our operational area consistently all year, or do we ebb and flow with clients' needs? These are among the many challenges we are facing and are trying to get ahead of."
For companies across generations, planning for the future is even more daunting. According to the Family Business Institute, only 30 percent of family businesses survive into the third generation and only three percent of family businesses make it into the fourth generation and beyond.
Join more than 40,000 industry peers who receive construction industry news and trends each week. Subscribe to CONEXPO-CON/AGG 365.