Concrete
and
Excavation
Contractor
Kurk
Inc.'s
Longevity
Comes
from
a
Focus
on
People,
Technology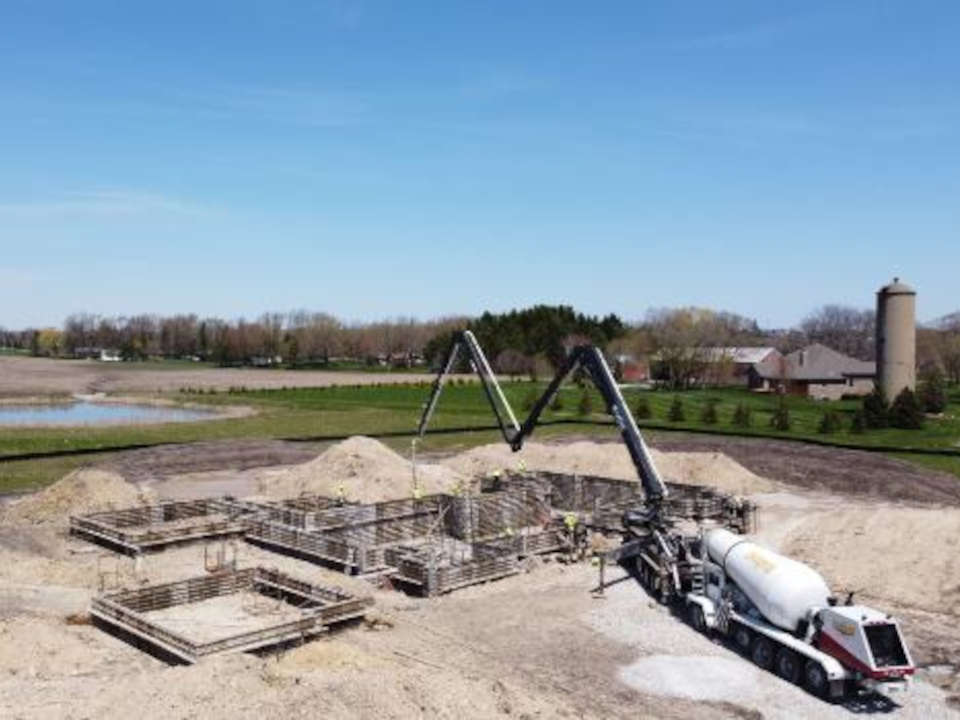 Kurk Inc. is family-owned and operated business specializing in commercial and residential concrete foundations and flatwork, site excavation and utilities, and site concrete. Based in Union Grove, WI – about halfway between Chicago and Milwaukee, the company services mainly Southeast Wisconsin.
Kurk Inc. is family-owned and operated business specializing in commercial and residential concrete foundations and flatwork, site excavation and utilities, and site concrete. Based in Union Grove, WI – about halfway between Chicago and Milwaukee, the company services mainly Southeast Wisconsin.
In addition to maintaining a successful business, Kurk Inc. concentrates on teaching the next generation about rewarding careers in the construction and trades industries.
John Kurt, president and founder of the company, along with a business partner, had been doing footings and flatwork for developers and owners of residential communities in the late 1980s. This work grew, and in 1989, the two decided to form Kurk Concrete and began offering poured foundation walls.
The company's "bread and butter" is commercial projects – apartment buildings, retail developments, senior living communities, warehouses, etc. along with residential home foundations and flatwork, says Amanda Kurt, company vice president and project manager. As a small family business, she takes on a variety of tasks, including daily operations, project design and management, bidding, employee management and marketing.
About 10 years ago, the company began investing in excavation equipment to support its concrete work, says Amanda, John Kurt's daughter and a second-generation owner. It then changed its name to Kurk Inc. Some four years later, Kurk, Inc. started focusing on the excavation and site utility markets in addition to the concrete market.
They have a broad assortment of trucks and equipment. "We own and are set up to mobilize any equipment to get the job done – concrete pumps, dozers, excavators, cranes, skid steers, and more," she notes. There are about 30 employees.
Building
Relationships
and
Reputation
"Developing relationships within our industry of builders and contractors and then building on those relationships is a huge factor in our company's longevity, says Kurt. "We have a lot of repeat customers."
Another factor is a focus is on upholding a solid reputation, she adds. "One of the things we are known for locally, and what we strive to maintain, is the attitude – of management and all employees – that we are there to get the job done. If the job is not going right, we problem solve, support and ultimately provide a successful project. We do not point fingers or make excuses."
"In our line of work, the number of unknowns is enormous. We are the start of the project. There are always some problems. Our goal is to work through them as quickly and cost-efficiently as possible and keep the project moving forward."
A
Focus
on
the
Workforce
Another element to Kurk Inc.'s successful longevity is its workforce, many of whom are long-time employees. "Our employees are part of our family," Kurt explains. "We work to gain the respect of our employees and we treat them right. This helps build our business.
"We provide benefits to all employees and strive to keep them working year-round. In Wisconsin, some of the trades do not work year-round because of the winter weather."
The workforce receives training to help improve their productivity and keep them safe. The company's "suppliers and equipment manufacturers have always been helpful with training our employees.," she notes.
All of this helps Kurk Inc. attract new employees. Many of the employees are referred to the company by employees and by other contractors.
Kurk Inc. belongs to several different professional organizations that help smaller size contractors grow by offering training and networking opportunities and providing insights on industry trends.
Early
Adoption
of
Technology
"Another thing that drives us forward is technology," says Kurt. "We are early adopters of construction technology within our industry, and this has worked very well for us. New technology saves us time and makes us more efficient."
She keeps on top of new technology by reading trade publications and online newsletters. In addition, the company's suppliers and equipment manufacturers bring to her attention better performing materials and equipment. They will say: "We have this and you need to try it."
By way of example, she related the time an excavator dealer salesman suggested she try GPS controls for excavators because they increase the overall speed and efficiency of the machine.
"We had GPS equipment but not on a machine," she says. "Mike at Brooks Tractor said this is the next step. He demonstrated it and we used simulators to try it out. We took the leap and it has worked out well."
There has not been a reluctance on the part of Kurk Inc.'s employees to "get on board" with new technology, points out Kurt. "However, with our experienced workforce, they want to see it work. If it can be proven that it works, they are all in."
Another industry professional suggested using a robot-guided 3D laser screed because it automates the process of placing concrete. "Some of our crew were very skeptical of the machine," she recalls. "But once they saw it operate and what it could do, they were excited to use it because it was more accurate and reduced labor."
Getting
the
Next
Generation
Interested
in
Construction
Kurt has been involved in the construction industry since childhood and came to work in the industry when she joined the family business after receiving a BS degree in structural engineering from Milwaukee School of Engineering. Besides working in the industry, she is a champion for getting new people interested in working in the construction industry.
"Growing up in the construction business, my two sisters and I often accompanied our father to jobsites," she says. "We thought everyone did that. As you grow up, you realize there are many people who have no idea of what the construction industry is all about.
"What I want to do is introduce people to our industry. Our successful business allows us to support activities that show the rewarding careers available in construction and the trades."
Kurk Inc. works industriously to let elementary school, high school and college kids know that there are great career opportunities within the construction industry and the trades. She has organized several events to this end.
"Hands-On"
Events
One event is Touch a Truck Wisconsin, which is done in partnership with the company's trades partners. Its purpose is to introduce kids and families to the construction and trades industries, plus raise awareness that there are many rewarding opportunities in these industries.
Annually since 2015, construction equipment is brought into the local fairgrounds. Children are allowed to touch, climb, sit in the driver's seat, pose for photos and ask questions about the trucks and equipment in a safe, supervised environment. Accompanying personnel teach the attendees about the equipment and trucks on display and how the vehicles help the local community.
Last year, about 3,500 people attended the free, one-day Touch a Truck Wisconsin event.
For the past two years, Kurk Inc. has been doing construction-themed activities for younger age school children – kindergarten through fifth grade. Here again, the intent is to get them thinking about a career in the construction and trades industries.
Kurt adds that her company recently became involved with Wisconsin's Youth Apprenticeship Program. It integrates school-based and work-based learning wherein students are instructed by qualified teachers and skilled worksite mentors. Students are exposed to multiple aspects of various industries and get paid on-the-job work experience.
Industry
Recognition
Kurt is a 2020 Honoree for The Daily Reporter's Top Women in Construction Award. It honors outstanding achievements by the top women in the construction industry and celebrates those who, by achieving success, have also paved the way for other women in construction.
The Daily Reporter is a Wisconsin trades newspaper.
Join more than 40,000 industry peers who receive construction industry news and trends each week. Subscribe to CONEXPO-CON/AGG 365.