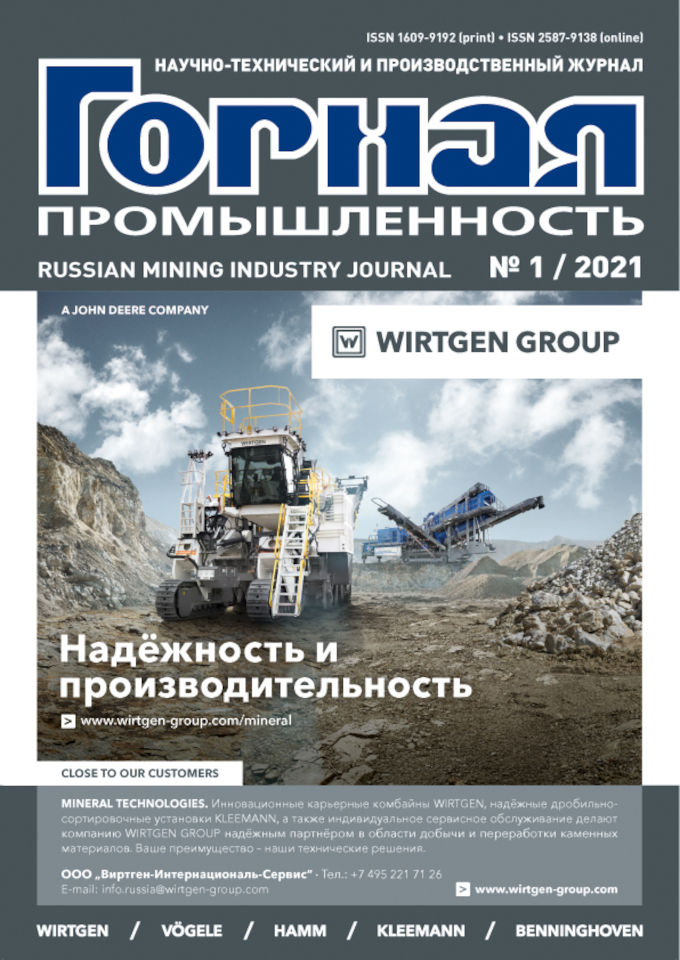 Printing date
15.03.2021
Dear
Colleagues,
The first 2021 issue of Russian Mining Industry Journal has been released.
We hope that this year will be less stressful and more optimistic for all of us, and especially those in the Mining Industry. The global economic downturn associated with COVID-19 has also affected the Russian Mining Industry. In spite of this, the country's major mineral resource companies, which employ tens of thousands of workers, have acted promptly to combat the consequences of COVID-19, providing wherever possible material support to their employees, pensioners and individuals from vulnerable social groups in the areas where their businesses operate.
A Presidential Decree declared 2021 the Year of Science and Technology in the Russian Federation. This decision is extremely important not only for the Russian science, but also for all science-driven sectors of the national economy. The Mining Industry is striving to follow such progressive and innovative trends as digitalization, robotics and others in its development. Hundreds of mining scientists and experts who are members of the Academy of Mining Sciences are doing their utmost to ensure that the current image of the industry is defined by scientific and technological innovations.
To recognize these achievements a ceremony to award the Grand Gold Medals of the Academy of Mining Sciences was held at the Vernadsky State Geological Museum of the Russian Academy of Sciences on February 17, 2021. The awards were presented to representatives of Russia's fuel and energy sector, heads of state authorities, major Russian companies and scientists. These awards were presented by Deputy Prime Minister of the Russian Federation A.V. Novak.
We wish that young scientists and mining students would also receive such awards. For such talented youngsters, we launched a new Mining Industry for Juniors Magazine in 2020. The next issue is planned for April 2021.
Finally, there is one more pleasing milestone. In 2021, Russian Mining Industry Journal was included in the prestigious Scopus International Database. Being part of the Scopus Database is the result of hard work of the Editorial Board and the editorial team.
Russian Mining Industry Journal brings together specialists of all the mining sectors, i.e. metallic and non-metallic ores, coal, oil and gas. The Editorial Board embraces distinguished scientists, including those of global renown, which ensures a rigorous selection of articles. Being a Scopus Journal means that all of us have to work even harder and more efficiently, giving preference to publications by leading Russian and international researchers and experts in the mining industry.
Yu.N. Malyshev,

Editor-in-Chief of the Russian Mining Industry,

President of the Academy of Mining Sciences, Academician of the Russian Academy of Sciences
---